Juniper 5G

Combine 5G with the power of the cloud and AI to transform your business

What is 5G?
5G is the fifth generation of wireless network technology. The next global wireless standard after 4G, 5G enables a new kind of network that's designed to deliver higher data speeds, lower latency, and support more users, devices, and services while simultaneously improving network efficiency.
5G supports three broad categories of use cases.
Enhanced Mobile Broadband (eMBB) — High bandwidth services for wireless connectivity.
Ultra-Reliable Low Latency Communication (URLLC) — Ultra reliable and low latency communication for critical requirements.
Massive Machine Type Communication (mMTC) — Reliable communication for billions of sensors and monitoring devices.
5G is designed to provide downlink peak data rates up to 20 Gbps, which is 20 times faster than the 4G LTE peak speed of 1 Gbps. Similarly, 5G is expected to deliver a 10- to 100-fold increase in user experience data rates, support 10 to 100 times the number of connected devices that 4G supports and feature super-low latency in the order of 1 millisecond (ms).
What Problems Does 5G Solve?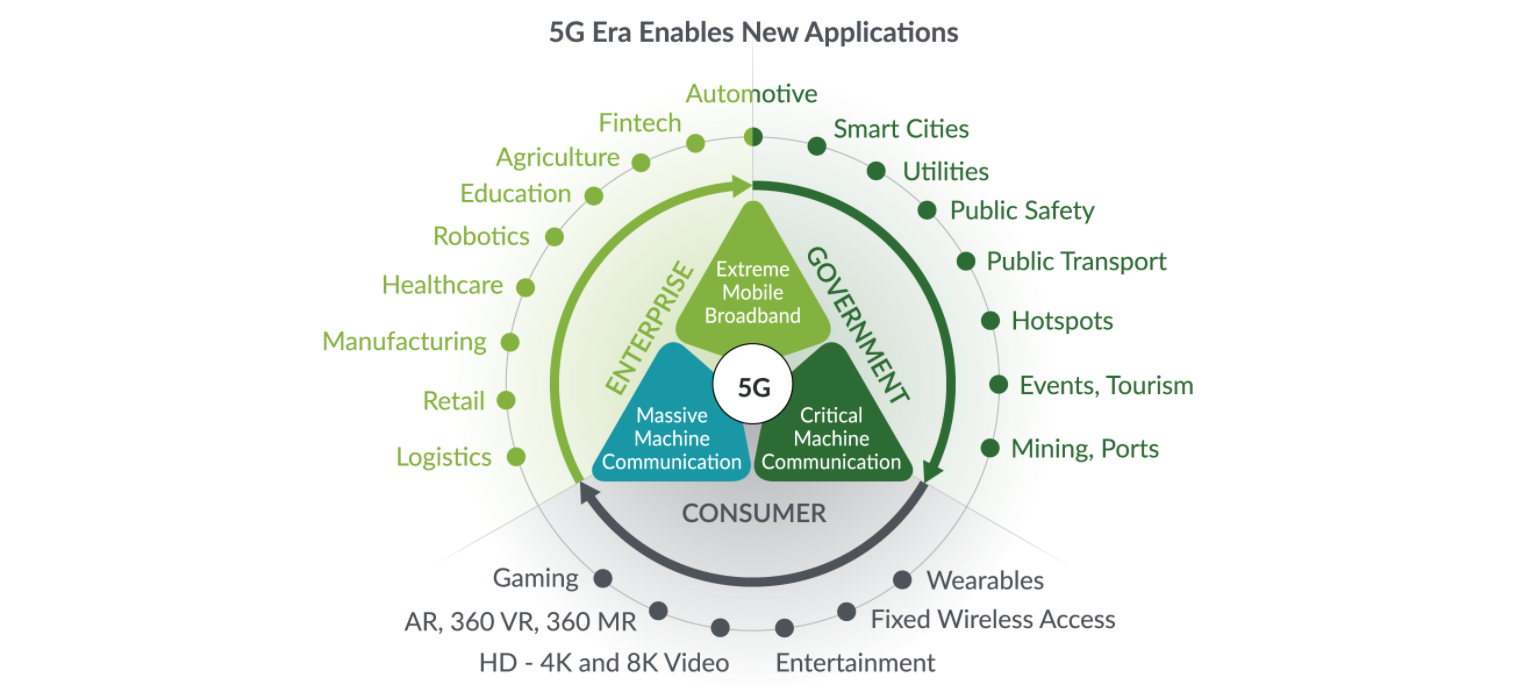 Service providers will use 5G to handle the ever-growing data traffic by significantly lowering the cost per bit. 5G also gives service providers an opportunity to prevent the decline in average revenue per user (ARPU) by enabling new 5G services for consumers, government, and enterprises.
How Does 5G Work?
New spectrum: To achieve high data rates, 5G must be able to use new spectrum bands above 6 GHz, centimeter (cm) wave band (6 to 30 GHz) and millimeter (mm) wave bands (> 30 GHz). 5G will also be deployed in spectrum bands below 6 GHz. The low bands provide the coverage and the higher bands provide capacity.
Massive MIMO: Massive MIMO is a MIMO system with an especially high number of antennas (for example, 8, 16, 64, 128, and so on). Massive MIMO increases spectral efficiency and network coverage.
5G New Radio (5G NR): The new 5G radio access technology is based on ultra-lean design principle, reducing signalling and energy consumption. 5G NR is also designed with a flexible frame structure to efficiently multiplex diverse 5G services as well as provide forward compatibility for future 5G services.
Management and orchestration (MANO): 5G significantly increases the number of connected end-user devices, nodes, and services within the network.
5G transport: Serving new 5G use cases such as eMBB, URLLC, mMTC needs a transport network that can handle not only a huge increase in traffic, but also the wide variety of network characteristics for each specific use case.
Network slicing: With the use of network slicing, multiple independent end-to-end logical networks can be run on a shared physical infrastructure. Each slice is capable of providing a specific quality of services (QoS) for a service or application.
Edge computing: The closer proximity improves response times and saves bandwidth. Edge computing, also known as edge cloud, can be deployed within customers premises, such as enterprises and factory floors, managed or hosted by a service provider.
Telco cloud: Telco cloud enables service agility and rapid service innovation, giving service providers the ability to unleash a new wave of applications and services that will reinvigorate their business models.
Security: New attack surfaces arise with 5G, IoT, network slicing, and edge computing. Threats can come from anywhere, and they're increasing in volume, frequency, and sophistication.
5G Core Network (5 GC): All core network functions are implemented based on cloud-native principles, including separation of user plane and control planes, stateless network functions, open interfaces, and APIs. Core network functions can be easily deployed, updated, and scaled to launch new services at a lower cost.