Juniper Networks ACX7024

Embedded with Paragon Active Assurance and with Zero Trust Security

Juniper Products
ACX Series Universal Access Routers
ACX7024, 1RU high, 250mm deep; 24xSFP28 and 4xQSFP28-DD; Operating Range 40C to 65C; AC Non-Redundant Power Supply Unit
ACX7024, 1RU high, 250mm deep; 24xSFP28 and 4xQSFP28-DD; Operating Range 40C to 65C; AC Redundant Power Supply Unit
ACX7024, 1RU high, 250mm deep; 24xSFP28 and 4xQSFP28-DD; Operating Range 40C to 65C; DC Non-Redundant Power Supply Unit
ACX7024, 1RU high, 250mm deep; 24xSFP28 and 4xQSFP28-DD; Operating Range 40C to 65C; DC Redundant Power Supply Unit
Click here to jump to more pricing!
Product Description
The Juniper Networks® ACX7024 Cloud Metro Router is designed to help operators achieve their capital, operational, and user experience goals. Part of the Juniper Networks ACX7000 Family of routers, the ACX7024 delivers exceptional TCO, investment protection, and supports Juniper® Cloud Metro for 5G, Internet of Things (IoT), and cloud applications. This makes it ideal for service provider, enterprise, and residential use cases requiring a highly flexible, compact, multiservice, and environmentally hardened platform.
ACX7000 Family routers are purpose-built for the IP service fabric underlay of a Juniper Cloud Metro. They leverage the industry's fastest chipset, provide a unique balance of system design, and set new benchmarks for sustainable, high-performance platforms. Managed by Junos® OS Evolved and Juniper Paragon™ Automation Portfolio, the ACX7000 routers are embedded with Paragon Active Assurance and with Zero Trust security built in, enabling operators to deliver highly differentiated customer experiences. Available in hardened, fixed, fixed plus modular, and fully modular designs, these energy and footprint efficient multiservice routers support high-precision timing technologies and are engineered for service provider, enterprise, residential (including PON with the Juniper Unified PON Solution), IoT, and 4G/5G mobile applications.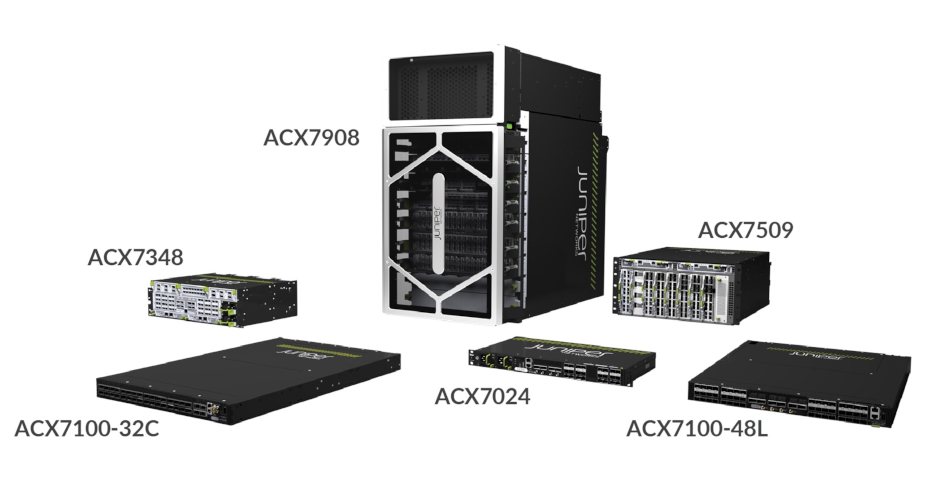 Juniper Networks ACX7000 Family—engineered for the IP service fabric of a Juniper Cloud Metro
ACX7024 is a hardened, compact, fixed, 1 U (24 cm deep), high-performance multiservice router. Next-generation silicon delivers 360 Gbps of throughput, a comprehensive feature set, and the scale needed to support the performance and bandwidth requirements of today and tomorrow. ACX7024 fixed ports include 24 multi-rate (SFP28) ports, each configurable as 1GbE, 10GbE, and 25GbE, enabling operators to perform today's most common upgrades on a port-by-port basis. An additional 4 fixed (QSFP-DD) 100GbE uplinks are available to support scale.
The ACX7024 incorporates 6 integrated fans (5+1 redundancy) for front-to-back and side-to-side (with baffle) airflow. It comes with 2x field replaceable AC or DC power supplies (1+1 redundancy). Cost-effective and efficient thermal design enables unrestricted high-power 100GbE ZR transceiver use across all supporting ports. It incorporates precision timing capabilities, including advanced Class C timing for low-latency 5G services and GPS/GNSS (Global Navigation Satellite System) transceiver for best-in-class network experience. It supports next-generation protocols, including segment routing, SRv6, MPLS, and Ethernet VPN (EVPN)–Virtual Extensible LAN (VXLAN), and any overlay, underlay, or service. It delivers service-assured network slicing, network intelligence, and Juniper Paragon Automation for network efficiency and operational simplicity.
Product Overview:
Operators are finding opportunities and facing challenges to support new and complex services and applications with 5G, IoT, and cloud—all while keeping experience-first networking in mind. The ACX7000 Family platforms can help operators thrive. The ACX7024 is a hardened, fixed, 360 Gbps, 1 U (24 cm deep) multiservice router, powered by Junos OS Evolved and Paragon Automation. It provides 1GbE to 100GbE port flexibility and delivers exceptional TCO, investment protection, and multiservice support for service provider, enterprise, and wholesale use cases. Its compact footprint and precision timing support make the ACX7024 ideal for 4G/5G mobile network deployments.
Features and Benefits:
The cloud metro-ready ACX7024 is engineered for sustainability. It addresses the challenges of evolving service requirements and relentless traffic growth imposed by 5G, IoT, and cloud applications, turning them into opportunities for operators to thrive.
ACX7024 Features and Benefits
Feature
Benefits
Junos OS Evolved and Embedded Active Assurance
Managed by Junos OS Evolved, Juniper Paragon Active Assurance Test Agents are embedded into all ACX7000 platforms enabling automated monitoring, diagnosis, remediation, and optimization of service delivery, service performance, and differentiated user experience.
Rugged and Efficient Design
Environmentally hardened (-40 ºC to +65 ºC) and compact footprint (1 U, 24 cm deep, 19 in. rack) supports a wide variety of deployments. Efficient design (<97 W typical*, 150 W max) with front-to-back and side-to-side (with baffle) airflow.
NOTE: Typical power consumption measured at 25º C ambient with 50% load on all ports
Build-As-You-Grow Operational Simplicity
Clip-on (tool-less) rack mounting, 24 multi-rate ports support native port-by-port 1GbE, 10GbE, and 25GbE configuration and migration. As service demand grows, ACX7024 routers support 100GbE uplinks and unrestricted high-power ZR transceiver use across all supporting ports.
Next-Gen Capabilities
Next-gen capabilities include leading protocols such as segment routing, SRv6, MPLS, EVPN-VXLAN, advanced programmability, leading network slicing, telemetry, and support for any overlay, underlay, or service.
Zero-Trust Security
Enhanced security capabilities include secure boot, integrated tamper-proof design, and trust anchor with DevID, enabling device attestation and enhanced security through a unique cryptographic digital identity.
Cloud Metro-Ready
ACX7024 offers deep buffering for end-to-end service delivery assurance, precision timing capabilities such as Synchronous Ethernet, Precision Time Protocol (PTP), and advanced Class C timing for latency-optimized 5G service experiences, as well as GNSS/GPS (Grand master clock support via external GNSS receiver) network synchronization. An ideal choice for cloud metro, enterprise, and residential use cases, ACX7024 also supports the Juniper Unified PON Solution, IoT, and 4G/5G mobile applications.
Built-In Interface Options for ACX7024
| Model | 1GbE/10GbE/25GbE SFP-28 | 100GbE QSFP-DD |
| --- | --- | --- |
| ACX7024 | 24 | 4 |
Maximum Port Capacity Supported Per Port Speed
| Native Port Speeds | ACX7024 |
| --- | --- |
| 100GbE | 4 |
| 40GbE | 4 |
| 25GbE | 24 |
| 10GbE | 24 |
| 1GbE | 24 |
Specifications
Specification
ACX7024
Dimensions (W x H x D)
19 x 1.75 x 9.6 in. (4.4 x 48.2 x 24.4 cm)
Weight (lb/kg) fully configured
12.5 lb (5.66 kg)
Power (DC)
-48 VDC through -60 VDC
Power (AC)
90 VAC to 264 VAC
Typical power draw (without optics)*
97 W @ 25° C
Maximum power draw (without optics)*
150 W
Operating temperature
-40 º C to +65 º C GR3108-class-2
Humidity
5% to 90% RH (noncondensing) operating
Interfaces
24x 1GbE/10GbE/25GbE QSFP28 4x100GbE QSFP-DD
Synchronization interfaces

1x RJ-45 port + TOD
1 PPS/10 MHz input and output
GNSS antenna (via USB)
ACX7024 Feature Matrix
Feature
ACX7024
System
ASIC throughput
360 Gbps
Chassis type
Fixed
Cooling
6 fans, front-to-back airflow, baffle for side-side
Layer 2 Bridging
IEEE 802.1ad (Q-in-Q)
Yes
Integrated routing and bridging (IRB)
Yes
IEEE 802.1Q VLAN encapsulation
Yes
Link Aggregation Control Protocol (LACP): IEEE 802.3ad
Yes
Static Media Access Control (MAC)
Yes
Jumbo frames
Yes
Layer 2 tunneling protocol (L2TP)
Yes
Layer 2 ingress access control list (ACL)
Yes
MPLS
LDP
Yes
LDP: Tunneling (LDP over RSVP)
Yes
RSVP
Yes
IP
IPv4/IPv6
Yes
Unicast reserve-path forwarding (uRPF)
Yes
128-way equal-cost multipath (ECMP)
Yes
RIP/RIPng
Yes
OSPF v2/v3
Yes
IS-IS
Yes
BGP
Yes
Layer 3 ingress and egress ACL
Yes
Virtual Router Redundancy Protocol (VRRP)
Yes
Basic segment routing
Yes
Path Computation Element Protocol (PCEP)
Yes
MPLS Service (Layer 2 and Layer 3)
L2VPN
Yes
L3VPN
Yes
Virtual private LAN service (VPLS)
Yes
Timing and Synchronization
PTP transparent clock
Yes
PTP primary/client capability
Yes
IEEE 1588v2 boundary clock
Yes
Synchronous Ethernet Enhanced (G.8262.1)
Yes
Class C
Yes
Operation, Administration, and Maintenance
Connectivity fault management (CFM)
Yes
Link fault management (LFM)
Yes
Security
MACsec
No
Secure boot
Yes
Secure Shell protocol
Yes
Authentication, Authorization, and Accounting (AAA)
Yes
Quality of Service
Behavior aggregate (BA) classification
Yes
Rewrite
Yes
Multifield classification
Yes
8 queues for traffic
Yes
Ingress policer
Yes
Automation
Zero-touch provisioning (ZTP)
Yes
Network Configuration Protocol (NETCONF)
Yes
Yet Another Next Generation (YANG)
Yes
OpenConfig
Yes
Python scripts
Yes
Pricing Notes:
Pricing and product availability subject to change without notice.
Juniper Products
ACX Series Universal Access Routers
ACX7024, 1RU high, 250mm deep; 24xSFP28 and 4xQSFP28-DD; Operating Range 40C to 65C; AC Non-Redundant Power Supply Unit
ACX7024, 1RU high, 250mm deep; 24xSFP28 and 4xQSFP28-DD; Operating Range 40C to 65C; AC Redundant Power Supply Unit
ACX7024, 1RU high, 250mm deep; 24xSFP28 and 4xQSFP28-DD; Operating Range 40C to 65C; DC Non-Redundant Power Supply Unit
ACX7024, 1RU high, 250mm deep; 24xSFP28 and 4xQSFP28-DD; Operating Range 40C to 65C; DC Redundant Power Supply Unit