Juniper BT11 Access Point

Enterprise-Grade Bluetooth LE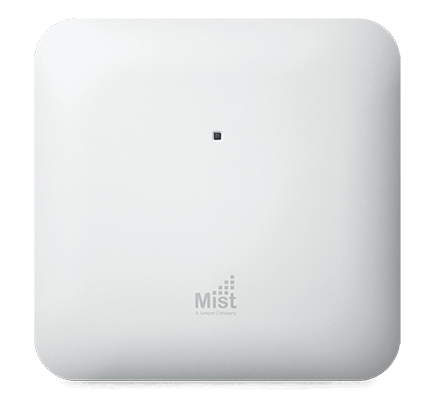 Juniper Products
Juniper Access Points
Adaptive Bluetooth Low Energy Array Access Point for Advanced Location based services.
#BT11-WW
List Price:
$638.00
Our Price: $513.59
Click here to jump to more pricing!
Overview:
The Juniper BT11 is an enterprise-grade access point exclusively for Bluetooth Low Energy. It leverages Juniper's patented virtual BLE (vBLE) antenna array, Juniper Mist cloud subscription services, and the Mist AI engine to enable high value location-based services such as user engagement, asset location, analytics, and various contact tracing/social distancing use cases. By eliminating the need for battery-powered BLE beacons and manual calibration, the Juniper solution makes indoor location services cost effective to deploy and scale.
The Juniper Mist Cloud Architecture
All wireless deployment, setup, operations, and insights are handled via the Juniper Mist Cloud, which was designed to provide unprecedented visibility and control at Web scale. A microservices architecture provides maximum agility when rolling out new features/ services.
Juniper Mist Edge
Juniper Mist Edge is an on-premises appliance that runs a tunnel termination service. Juniper APs offer a flexible data plane. Traffic can be broken out locally, or tunneled to Juniper Mist Edge. There are many use cases the Juniper Mist Edge solves, including seamless mobility in large campus environments, tunneling of guest traffic to a DMZ, IoT segmentation, and teleworker.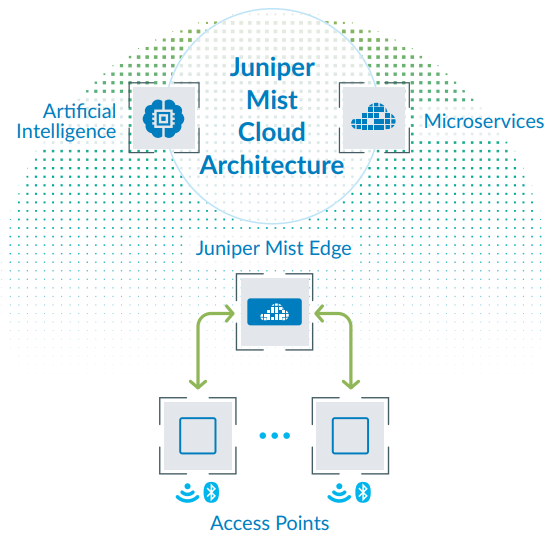 Features:
Let's Get Virtual
Patented virtual Bluetooth LE (vBLE) technology lets you deploy and move virtual beacons with the simple click of a mouse (or via APIs), eliminating the need for physical beacons.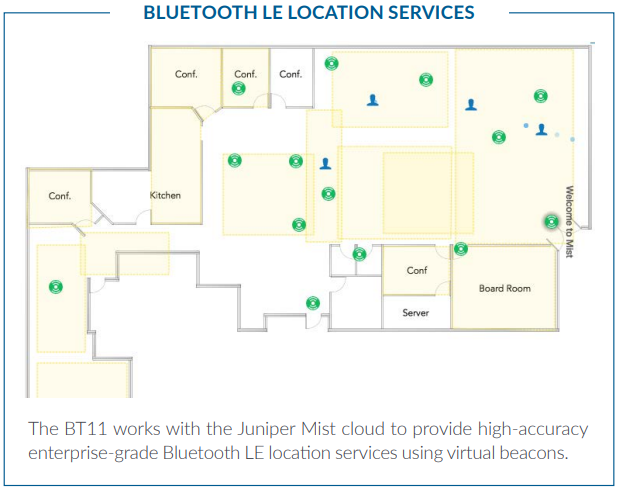 Machine Learning Eliminates Manual Calibration
Juniper continuously collects data in real-time from all mobile devices to ensure accurate location estimates without the need for Bluetooth LE site surveys.
Best Location Accuracy and Performance
Dynamic vBLE 16 antenna elements in Juniper APs plus machine learning in the Juniper Mist cloud ensure accuracy within 1 to 3 meters for mobile devices, and in-room/zone-level accuracy for Bluetooth LE assets.
Real-Time Visibility
Juniper gives you a real-time view of the RF environment from the mobile user's perspective. This lets you detect coverage holes and other issues, even as users move around and their RF coverage patterns change.
Open APIs for Easy Integration
Juniper offers a mobile SDK for iOS and Android with three types of APIs (vBLE beacon, indoor location, and zone analytics) for seamless integration with complementary products.
Premium Analytics
Juniper Mist's User Engagement and Asset Visibility service includes a base capability for analyzing up to 30 days of data, from which you can extract network insights across your enterprise that help you properly align your support resources or introduce enhanced premium services.
For enterprises that need to extend the timeline of data beyond 30 days or access other third-party solutions with customizable reporting to better understand shopper and guest behavior, Juniper Mist Premium Analytics Subscription service is available.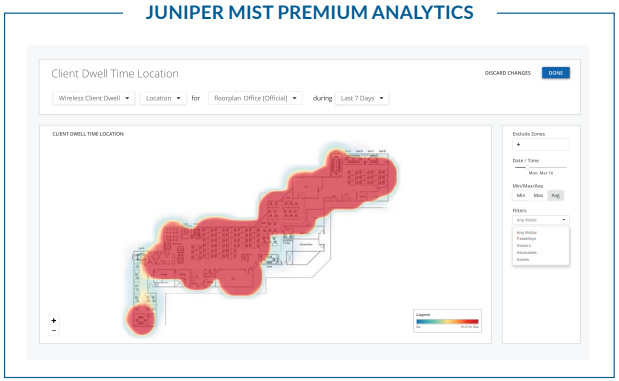 Patented VBLE Technology
In addition to the industry-leading Wi-Fi technology at the heart of the AP43 access point, our second-generation, patented, and dynamic, 16-element virtual Bluetooth LE (vBLE) antenna array combines with machine learning to eliminate the need for battery-powered beacons. This maximizes scalability and optimizes your deployment investment in location-based services. vBLE enables businesses to provide rich location-based experiences that are engaging, accurate, real-time, and scalable.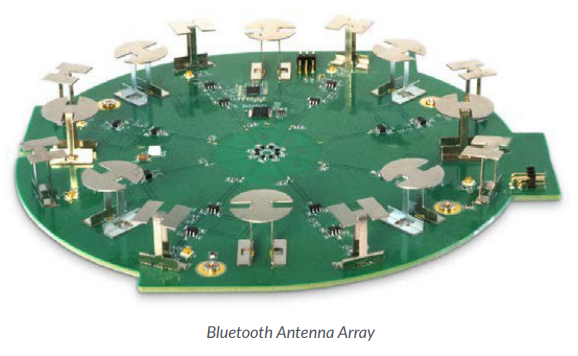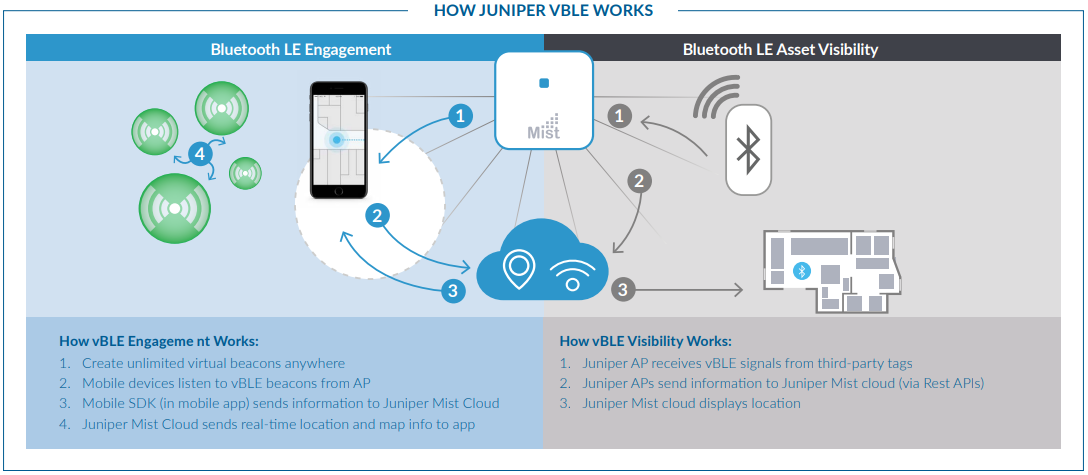 Specifications:
BT11 Access Point Specifications
Power Options
802.3af or 802.3at PoE
Dimensions
203mm x 203mm x 40mm (7.99in x 7.99in x 1.57in)
Weight
0.636 kg (1.4 lbs)
Operating Temperature
Internal antenna 0° to 40° C
Operating Humidity
10% to 90% maximum relative humidity, noncondensing
Operating Altitude
3,048 m (10,000 ft)
Electromagnetic Emissions
FCC Part 15 Class B
I/O
One 10/100/1000BASE-T auto-sensing RJ-45 with PoE In
One 10/100/1000BASE-T auto-sensing RJ-45 with 48Vdc PoE Out
RF
2.4GHz BLE with Dynamic Antenna Array
Indicators
Multi-color status LED
Compliance Standards
UL 60950-1
CAN/CSA-C22.2 No. 60950-1
FCC Part 15.247, 15.407, 15.107, and 15.109 RSS-247
ICES-003 (Canada)
I/O Ports and Accessories
Ethernet1+PoE Out
8-pin interface for digital I/O and analog input (0 to +5V)
Ethernet1+PoE In
USB2.0 support interface
Reset
Reset to the factory default settings
Services Available for the Juniper BT11
Bluetooth Cloud Services
Juniper Mist Mobile Engagement

For Digital Experience Teams

Accurate (1-3m) Turn-by-Turn Navigation
Sensor Fusion with Dead Reckoning
Unsupervised Machine Learning
Virtual Beacons with Custom Notifications
Mobile SDK for iOS and Android

Juniper Mist Asset Visibility

For Process and Resource Improvement Teams

Identification of Assets by Name and View Location
Zonal/Room Accuracy for Third-Party Tags
Historical Analytics for Asset Tags
Telemetry for Asset Tags (temperature, motion, and other data)
APIs for Viewing Assets and Analytics
*Based on Telcordia SR-332 issue 3, Method I, Case 3 and measured at temperature of 25°C (77°F) for indoor access points, and 65°C (149°F) for outdoor access points.
Compare:
AP61
AP43
AP41
AP21
BT11
Deployment
Outdoor
Indoor
Indoor
Indoor
Indoor
Wi-Fi Standard
802.11ac Wave2 4x4 : 4
802.11ax (Wi-Fi 6 ) 4x4 : 4SS
802.11ac Wave2 4x4 : 4
802.11ac Wave2 2x2 : 2
—
Wi-Fi Radios
Dedicated third radio
Dedicated third radio
Dedicated third radio
—
—
Antenna Options
Internal/External
Internal/External
Internal/External
Internal
Internal
Virtual BLE
IoT Interface
—
—
—
IoT Sensors
—
Humidity,
Pressure,
Temperature
—
—
—
Warranty
One Year
Limited Lifetime
Limited Lifetime
Limited Lifetime
Limited Lifetime
Frequencies Supported
2.4GHz
5GHz
2.4GHz
5GHz
6GHz
2.4GHz
5GHz
2.4GHz
5GHz
2.4GHz
5GHz
Pricing Notes:
Pricing and product availability subject to change without notice.
Juniper Products
Juniper Access Points
Adaptive Bluetooth Low Energy Array Access Point for Advanced Location based services.
#BT11-WW
List Price:
$638.00
Our Price: $513.59