Juniper Networks EX6200 Ethernet Switches

High-Performance carrier-class Ethernet Switches
The EX6200 line of Ethernet switches delivers a scalable, resilient and high-performance wiring closet solution for enterprise campus deployments. The EX6200 is also an ideal fit for data center access deployments using end-of-row designs.
Two EX6200 48-port 10/1000/1000BASE-T line cards are available, with and without support for the IEEE 802.3af Power over Ethernet (PoE) standard. PoE provides 15.4 watts per port for powering networked devices such as telephones, video cameras, multiple radio IEEE 802.11n wireless LAN (WLAN) access points and video phones in converged network environments. The PoE line card also supports the IEEE 802.3at PoE+ standard, which delivers up to 30 watts of power per port for devices that require more than the 15.4 watts provided by PoE.
At just 14 rack-units (U) high, a single EX6200 chassis can support up to 432 PoE+ ports, delivering the industry's densest PoE+ solution in its form factor class.
At just 15.5 inches deep, the EX6210 is also compact enough for traditional wiring closets, making it ideal for campus deployments.
The EX6200 switches run the same modular Junos OS contrl plane feature implementation as other Juniper switches, routers and security devices, providing a consistent set of features and capabilities across the Juniper network infrastructure. In addition the EX6200 comes with a rich set of Layer2 and Layer3 features that are supported in the base image without the need of an additional license. These features include IPv6 support*, very extensive Quality of Service (QoS) and a slew of security features in addition to great scalability for MAC and IP addresses.
EX6200 Ethernet Switches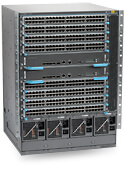 432 per chassis (384 ports using dedicated I/O slots + 48 ports using optional SRE slot)
8 x 100BASE-FX / 1000BASE-X (SFP) Port
8 x 10GBASE-X Port
4.4 Tbps backplane capacity
Up to 128 Gbps Data Rate
690 Mpps System Throughput