Juniper Mist WAN Assurance

Transforming IT operations towards the intelligent self-driving network in the era of the AI-Driven Enterprise.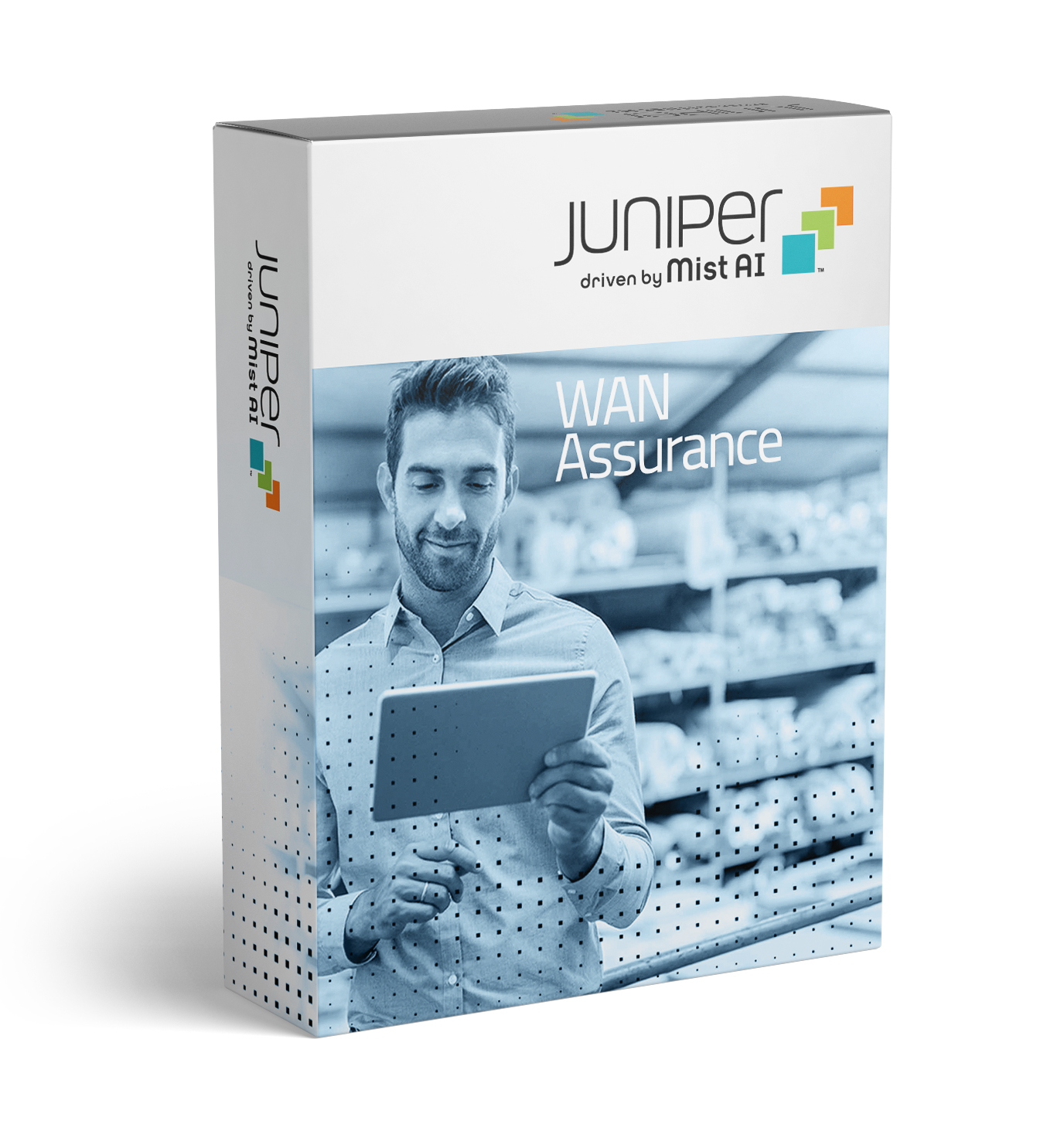 Overview:
Juniper Mist cloud services are transforming IT operations towards the intelligent self-driving network in the era of the AI-Driven Enterprise. Juniper Mist WAN Assurance delivers simpler operations, shorter mean time to repair and better visibility into end-user experiences.
Key Benefits
Visibility into WAN user experience with application-based context
End to End impact analysis to end user based on wireless, wired, WAN telemetry, states and events
Automatic corrections/ identification for gateway misconfigurations and faulty interfaces
Insight into SRX gateway telemetry and WAN link health
Product Description
Juniper Mist WAN Assurance is a cloud service that brings automated operations and service levels to the enterprise access layer for the WAN edge, and when used in conjunction with Juniper Mist Wired and Wireless Assurance, transforms all operations covering the switches, IoT devices, access points, servers, printers, etc. Juniper SRX Series Gateways provide the rich Junos-based streaming telemetry that enable the insights for gateway health metrics and anomaly detection.
Juniper's AI engine and virtual network assistant further simplifies troubleshooting and streamlines the helpdesk with self-driving actions to automatically remediate issues. Marvis Virtual Network is one step towards the Self-Driving Network™, turning insights into actions and fundamentally transforming IT operations from reactive troubleshooting to proactive remediation.
Architecture and Key Components: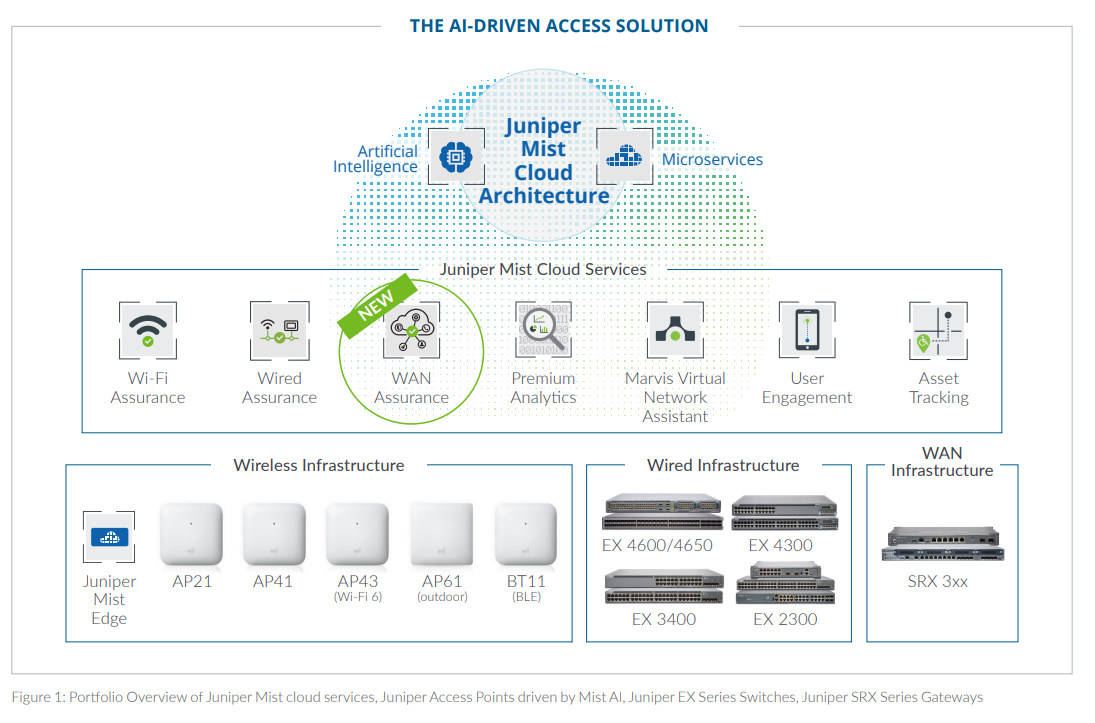 WAN Service-Level Expectations
Monitor and enforce service-level expectations (SLEs) for key user/device experience metrics such as WAN Link Health, Application Experience, and Gateway health. Provide insights into how these metrics impact end user experiences and proactively root cause the reason for the degradation.
AI-Driven Application Insights
In addition to deriving insights from gateway health including CPU, memory, traffic, and link health, get AI powered insights to application experience per user, including impact from latency, jitter, and packet loss per app on end user experiences.
Anomaly Detection for WAN Gateways
When combined with the Marvis Virtual Network Assistant service, the system will deliver proactive anomaly detection to identify issues with the application before users report them.
Marvis for WAN
The Marvis Conversational Interface service allows IT teams to quickly get to answers by simply posing questions to Marvis. Questions like, "why is my user's video chat application experience bad?" can be directly queried. Additionally, Marvis Actions provide proactive recommendations to improve user experience issues stemming from the WAN. For example, these actions can address MTU mismatch or other ISP issues. Correlating with wireless LAN and wired LAN insights, it can also recommend actions outside the WAN.
Features and Benefits:
WAN Service-Level Expectations (SLEs)
Get operational visibility into the WAN experience with SLEs for Juniper SRX Series Gateways. Measure impact of gateway health, WAN link health on end user experience. WAN Link Health SLE that is affected by issues such congestion, IPSec and ISP availability gives us the insights into how any of the above factors affect a user or an application. Juniper Mist SLE dashboard helps identify root cause proactively and isolate "needle-in-a-haystack" problems. Leveraging the APPQoE infrastructure – the Juniper Mist portal brings about real time performance for individual applications and SLE framework provides the root cause for sub-optimal application experience in a few clicks.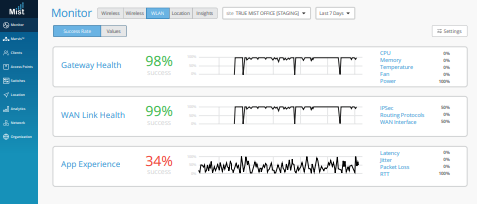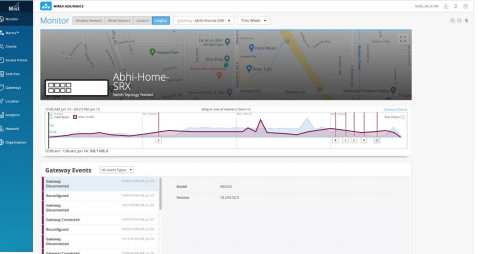 WAN Insights Driven by Mist AI
Know exactly how Juniper SRX Series Gateways are performing with detailed gateway metrics and insights down to the port level such as CPU, memory utilization, bytes transferred, traffic utilization, and power draw. WAN Assurance also logs gateway events, like configuration changes and system alerts Along with WAN utilization, IPSec Utilization insights help understand the amount of traffic sent over the tunnel vs local breakout. WAN Insights also provide application visibility on a per user as well as per app basis.
Marvis, the AI-Driven Virtual Network Assistant for WAN
Marvis transforms IT operations towards the self-driving network with simplified troubleshooting and performance analysis for helpdesk staff and network administrators. Simply ask a question in natural language and get actionable insights. Marvis brings proactive anomaly detection into the SLE dashboard so users know when there are deviations from established baselines. And with Marvis Actions, users get proactive recommendations for WAN issues such as MTU Mismatch, Bad Cables, WAN Link Issues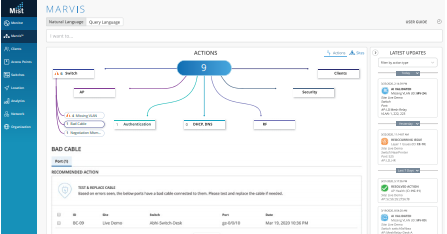 Supported:
The following models of Juniper Networks SRX Series Gateways are supported:

6 x 1GbE RJ-45 ports and 2 x 1GbE SFP
1 Gbps Firewall performance
100 Mbps IPS performance
250 Mbps VPN performance
64,000 Concurrent sessions
5,000 New sessions/second
1,000 Maximum security policies

6 x 1GbE RJ-45 ports and 2 x 1GbE SFP
1 Gbps Firewall performance
100 Mbps IPS performance
250 Mbps VPN performance
64,000 Concurrent sessions
5,000 New sessions/second
1,000 Maximum security policies

6 x 1GbE RJ-45 PoE ports and 2 x 1GbE SFP
1 Gbps Firewall performance
100 Mbps IPS performance
250 Mbps VPN performance
64,000 Concurrent sessions
5,000 New sessions/second
1,000 Maximum security policies

8 x 1GbE RJ-45 ports and 8 x 1GbE SFP
3 Gbps Firewall performance
250 Mbps IPS performance
500 Mbps VPN performance
256,000 Concurrent sessions
10,000 New sessions/second
2,000 Maximum security policies

8 x 1GbE RJ-45 ports and 8 x 1GbE SFP
5 Gbps Firewall performance
500 Mbps IPS performance
800 Mbps VPN performance
512,000 Concurrent sessions
20,000 New sessions/second
4,000 Maximum security policies