Juniper Networks QFX10000-30C

High-Density, Highly Scalable, Future-Proofed Spine Switches Optimized for the Cloud

Juniper Products
QFX10000 Line Cards
QFX10000 30-port 100G QSFP28 /24-port 40G QSFP+ with 6-port 100G QSFP28 Line Card
Click here to jump to more pricing!
Overview:
The QFX10000 line of modular data center spine and core Ethernet switches delivers industry-leading scale, flexibility and openness, with a design that enables the seamless transition from 10GbE and 40GbE interface speeds to 100GbE and beyond. These high-performance, forward-looking switches are designed to help cloud and data center operators extract maximum value and intelligence from their network infrastructure well into the future.
Product Description
The Juniper Networks QFX10000 line of modular Ethernet switches delivers up to 96 Tbps of system throughput, scalable to over 200 Tbps in the future, to meet the rapid and ongoing traffic growth in the data center. Industry-leading scale and density on the QFX10000 modular switches redefine per-slot economics, enabling customers to do more with less while simplifying network design and reducing OpEx. Based on purpose-built Q5 ASICs, the QFX10000 line delivers unparalleled intelligence and analytics, providing deeper insights into application performance.
The QFX10000 line can be deployed in a number of different network designs and fabrics, including Layer 3 fabric and Juniper MC-LAG for Layer 2 and Layer 3 networks, giving customers complete architectural flexibility. Additionally, the open architecture ensures that customers can innovate on top of Juniper Networks Junos operating system to accelerate the pace of innovation.
The QFX10000 is also a key component of Juniper Networks MetaFabric Architecture, which provides a simple, open and smart approach to building data center networks. Additionally, the QFX10000 supports Data Center Interconnect (DCI), critical to workload mobility and application availability.
For networks evolving to SDN, the QFX10000 can integrate with VMware NSX SDN controllers and can act as a Virtual Extensible LAN (VXLAN) Layer 2 and Layer 3 gateway. The open and standards-based QFX10000 switches can also interoperate with the Open vSwitch Database (OVSDB) to support automated management and control capabilities. The QFX10000 line can integrate with OpenContrail SDN controller to allow users to choose their preferred SDN systems.
Two QFX10000 modular chassis options are available, providing full deployment flexibility:
QFX10008 Ethernet Switch, an 8-slot, 13 U chassis that supports up to eight line cards
QFX10016 Ethernet Switch, a 16-slot, 21 U chassis that supports up to 16 line cards
Both QFX10000 modular chassis can accommodate any combination of the following QFX10000 Ethernet line cards:
QFX10000-36Q, a 36-port 40GbE quad small form-factor pluggable plus transceiver (QSFP+) or 12-port 100GbE QSFP28 line card
QFX10000-30C, a 30-port 100GbE QSFP28/40GbE QSFP+ line card
QFX10000-60S-6Q, a 60-port 1GbE/10GbE SFP/SFP+ line card with six-port 40GbE QSFP+ / two-port 100GbE QSFP28
Fully configured, a single QFX10016 chassis can support up to 480 100GbE ports, delivering the industry's highest line-rate 100GbE port densities in its class. The QFX10000 switch fabric is capable of delivering up to 7.2 Tbps (full duplex) per slot, and the midplane-less orthogonal interconnect architecture ensures system longevity.
QFX10000 Modular Switches Highlights
Industry-leading line-rate 100GbE port density with up to 480 100GbE ports in a single chassis
Up to 96 Tbps Layer 2 and Layer 3 performance, scalable to over 200 Tbps in the future
Unparalleled investment protection with high density 10GbE, 40GbE, and 100GbE; 400GbE ready
System longevity with midplane-less orthogonal interconnect architecture
Highest logical Layer 2 / Layer 3 scale; up to 1M MACs, 2 million host routes, 2 million FIB
Deep buffers with up to 100ms packet buffering per port
No head-of-line blocking with virtual output Queue (VoQ)- based architecture
Flexible network architectures including Layer 3 fabric and Juniper MC-LAG for Layer 2 and Layer 3 networks
Juniper Virtualized Open Network Operating System framework for programmability through APIs
High availability with non-stop routing (NSR), non-stop bridging (NSB), and graceful route engine switchover (GRES)
Rich automation capabilities with operations and event scripts, Python, Chef, and Puppet
Architecture and Key Components:
The QFX10000 modular data center spine and core Ethernet switches share a number of architectural elements. The Control Boards (CBs) employed by these switches run Junos OS, which processes all Layer 2 and Layer 3 protocols, while the Switch Fabric modules manage the chassis and provide switching functionality for data traffic coming from line cards.
The QFX10000 line cards, which are common across all modular QFX10000 platforms, include Packet Forwarding Engines (PFEs) that process network traffic, as well as a line-card processor that provides scalable local control.
The QFX10000 Virtual Output Queue (VOQ)-based architecture is designed to scale to very large deployments, with no headof-line blocking, a single-tier low-latency switch fabric, efficient multicast replication handling, and deep buffering to ensure performance at scale. The horizontal line cards in the front of the chassis directly connect with the vertical switch fabric cards in the rear of the chassis via orthogonal interconnects, without the need for a midplane. This midplane-less architecture ensures a smooth upgrade process to higher-speed switch fabric cards in the future, providing unparalleled investment protection. The system is designed from the ground up to support 400GbE in future.
To maintain uninterrupted operation, the QFX10000 fan trays cool the line cards, Control Board, and Switch Fabric modules with redundant, variable-speed fans. In addition, the QFX10000 power supplies convert building power to the internal voltage required by the system.
All QFX10000 components are hot-swappable, and all central functions are available in redundant configurations, providing high operational availability by allowing continuous system operation during maintenance or repairs.
QFX10000 Line Cards
The QFX10000 line cards support an extensive set of Layer 2 and Layer 3 services that can be deployed in any combination of L2- L3 applications.
Each QFX10000 line card is unique in its ability to support tri-speed 10GbE, 40GbE and 100GbE connections, enabling customers to transition seamlessly from one speed to another as their needs change. The unprecedented port density, high logical table sizes and up to 100ms deep packet buffers allow customers to deploy the most scalable systems necessary to meet the exponential data growth in the data center.
Each QFX10000 line card is built upon the Juniper Q5 silicon, which supports a wide range of Layer 2 and Layer 3 Ethernet functionality including 802.1Q VLAN, VXLAN, link aggregation, Virtual Router Redundancy Protocol (VRRP), L2 to L3 mapping, and port monitoring. Additionally, the line cards support filtering, sampling, load balancing, rate limiting, class of service (CoS), MPLS, Fibre Channel over Ethernet (FCoE) transit functionality, and other key features needed to deploy a dependable, lossless, high-performance Ethernet infrastructure.
QFX10000 Control Board
The QFX10000 Control Board supports control and management plane functionality with an integrated Routing Engine (RE) that features a quad-core, 2.5 GHz Intel processor with 32 gigabytes of SDRAM and an on-board solid-state drive (SSD) providing 32 GB of storage for Junos OS images and logs. The CB also has a front SSD slot to support a hot swappable SSD for secondary images and other external storage. The CB features AUX, console, and Ethernet ports on the front panel to support out-of-band system management and monitoring, while an external USB port provides a removable media interface to install Junos OS images manually.
The CB's central CPU performs all system control functions and maintains hardware forwarding table and routing protocol states for the QFX10000 modular switches. Dedicated hardware on the CB module supports chassis management functions such as environmental monitoring, while communication between CB modules and individual line cards takes place over a dedicated internal 10GbE out-of-band control interface.
QFX10000 Switch Fabric
The QFX10000 Switch Fabric modules are hot-swappable and serve as the central non-blocking matrix through which all network data passes.
Both the QFX10008 and QFX10016 systems have six Switch Fabric cards that provide N+1 redundancy. The Switch Fabric cards deliver 7.2 Tbps throughput per slot. The switch cards can be upgraded to provide more than 200 Tbps of system throughput in the future.
Switch Fabric modules perform the following key functions:
Monitor and control system functions
Interconnect all line cards
Handle clock and system resets
Power
The Premium and Advanced software licenses are classified as Class 1, Class 2, Class 3, etc., and offered as perpetual licenses. Class 1 licenses are applicable to the QFX5110-48S and QFX5110-32Q switches. Please see Ordering Information for license SKU descriptions. The AC supplies on the QFX10008 chassis accept 200 to 240 volts alternating current (VAC) input and deliver 2,700 watts of power to the chassis, while the DC power supplies accept -40 to -72 volts direct current (VDC) input and deliver 2,500 watts of power to the chassis. Each AC and DC power supply has two inputs for feed redundancy.
Cooling
The QFX10000 modular chassis support front-to-back cooling with air being pulled in through the perforations on the Control Boards and the line cards in the front of the chassis. Hot air is exhausted through the fan trays that are placed in front of the fabric cards in the rear of the chassis as well as through the power supplies. Each chassis hosts two fan tray subsystems with redundant fans. Each fan tray subsystem consists of a fan tray controller and a fan tray. The fan tray controller provides power to the fan trays and manages the fans in the fan tray.
Flexible Network Architectures
The QFX10000 switches support a diverse set of deployment options, including Layer 3 fabric and Layer 2 and Layer 3 networks with Juniper multichassis link aggregation group (MC-LAG). Customers can choose the architecture that best suits their deployment needs and easily adapt and evolve as requirements change over time. The QFX10000 switches serve as the universal building block for all of these switching architectures, enabling data center operators to build cloud networks their way.
Layer 3 Fabric: For customers looking to build scale-out data centers, a Layer 3 spine and leaf Clos Fabric is ideal due to its non-blocking and predictable performance and scale characteristics. As an example, a two-tier fabric with the QFX10000 switches as the spine and QFX5100 switches as leafs can scale to support more than 50,000 10GbE server ports at 3:1 oversubscription. One of the most complicated tasks in building an IP fabric is assigning all of the details such as IP addresses, BGP AS numbers, routing policy, loopback addresses, and many other implementation details. Automating the creation of an IP fabric at a large scale is also difficult. Juniper has created the OpenClos project to provide free, open-source tools to automate the creation of IP fabrics in the data center. OpenClos is a set of Python scripts developed as an open-source project that live on GitHub. OpenClos takes a set of inputs that describe the shape and size of a data center and outputs network switch configuration files and even a cabling plan.
Juniper MC-LAG: The QFX10000 switches also eliminate Spanning Tree Protocol in traditional Layer 2 networks when deployed in a MC-LAG configuration. The active-active operation of MC-LAG ensures complete bandwidth utilization between the network's access and aggregation layers, while the dual control plane technology ensures highest availability for applications.
Overlays: Customers can deploy overlay networks to provide Layer 2 adjacencies for applications over Layer 3 fabrics. The overlay networks use VXLAN in the data plane and EVPN or OVSDB for programming the overlays. The overlays can operate without a controller, or can be orchestrated with an SDN controller like OpenContrail or VMware NSX.
Carrier-Class Operating System
The QFX10000 line of switches runs the same Junos OS used by all other Juniper Networks EX Series and QFX Series Ethernet Switches, as well as the Juniper Networks routers that power the world's largest and most complex networks.
By using a common operating system, Juniper delivers a consistent implementation and operation of control plane features across all products. Junos OS employs a highly available modular architecture that prevents isolated failures from bringing down an entire system. Key Junos OS features that enhance the functionality and capabilities of the QXF10000 include:
Software modularity, with process modules running independently in their own protected memory space and with the ability to do process restarts • Uninterrupted routing and forwarding with features such as nonstop routing (NSR) and nonstop bridging (NSB)
Commit and rollback functionality that ensures error-free network configurations
A powerful set of scripts for on-box problem detection, reporting, and resolution


Figure 1: QFX10000 modular switches can be deployed in Layer 3 fabric or MC-LAG configurations.
Juniper Virtualized Open Network Operating System Framework
The QFX10000 switches have an open software architecture that enables customers to innovate along with Juniper to accelerate the pace of innovation. Customers can create and run applications alongside Junos; these applications can then follow their own software release schedule.
This new solution offers modularity and direct programmability through APIs. The platform and Packet Forwarding Engine (PFE) modules are separate from the control module(s). Customers can create and run guest applications, either as a VM or a Linux daemon, alongside Junos and communicate with Junos and also directly with platform and PFE modules through normalized programmable APIs. Having the ability to build applications that can program the QFX10000 control plane, data plane and the platform itself, the customers can implement specific and unique network forwarding functions and automate the control and management by integrating with the customer's SDN controller and orchestration tools. The Juniper QFX10000 programmable APIs have a stable abstraction so that the customer applications can work across Juniper platforms as well as future Junos releases. Based on Apache Thrift, the Juniper QFX10000 supports standardized API definition via Interface Description Language (IDL) while allowing the use of customer's favorite programming language.
Other services such as analytics and automation can also run as separate daemons and can be directly accessed through orchestration tools.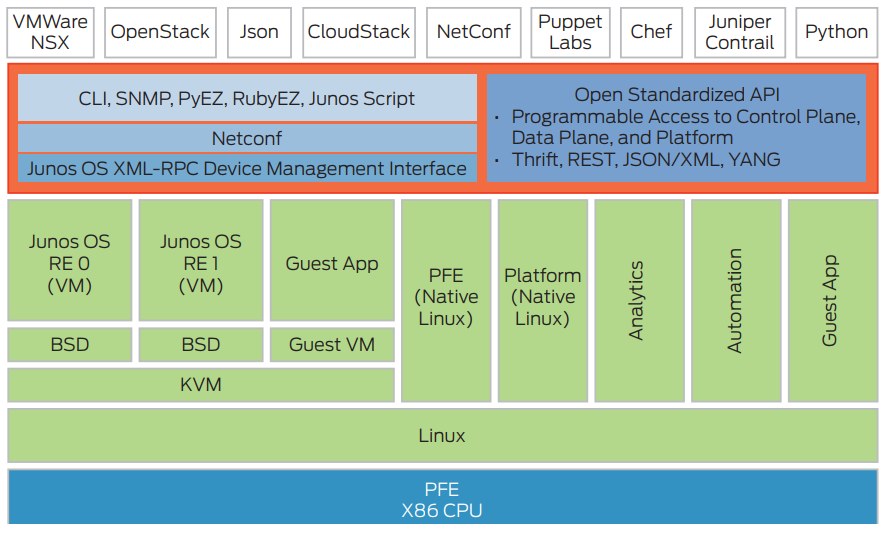 Figure 2: Juniper Virtualized Open Network Operating System Framework
Junos Space Network Director
The QFX10000 switches can be managed through Junos Space Network Director, a next-generation network management solution that allows users to visualize, analyze, and control the entire enterprise network—data center and campus, physical and virtual—through a single pane of glass. Network Director incorporates sophisticated analytics for real-time intelligence, trended monitoring, and automation to increase agility as well as faster rollout and activation of services.
For cloud deployments, Network Director provides a set of REST APIs that enable on-demand and dynamic network services by simplifying the consumption of services for multitenant environments. With third-party cloud orchestration tool integration, the Network Director API enables automation and provisioning of Layer 2, Layer 3, and security services in the data center without the need for manual operator intervention.
Features and Benefits:
High Availability
QFX10000 modular spine and core switches deliver a number of high availability features that ensure uninterrupted, carrier-class performance. Each QFX10000 chassis includes an extra slot to accommodate a redundant RE module that serves as a backup in hot-standby mode, ready to take over in the event of a master RE failure. If the master fails, the integrated Layer 2 and Layer 3 graceful Routing Engine switchover (GRES) feature of Junos OS, working in conjunction with the nonstop active routing (NSR) and nonstop bridging (NSB) features, ensures a seamless transfer of control to the backup, maintaining uninterrupted access to applications, services, and IP communications.
Virtual Output Queue (VOQ)
The QFX10000 switches support a virtual output queue (VOQ)- based architecture designed for very large deployments. VOQ refers to a queue on the egress port that is maintained by the ingress PFE. With VOQ architecture, packets are queued and dropped on ingress during congestion with no head-of-line blocking.
Automation
The QFX10000 switches support a number of features for network automation and plug-and-play operations. Features include operations and event scripts, automatic rollback, and Python scripting. The switches can also support integration with VMware NSX, OpenContrail, Puppet, OpenStack, and CloudStack.
MPLS
QFX10000 switches support a broad set of MPLS features, including L3 VPN, IPv6 provider edge router (6PE, 6VPE), RSVP traffic engineering, and LDP to allow standards-based network segmentation and virtualization.
VXLAN
The QFX10000 supports Layer 2 and Layer 3 gateway services that enable VXLAN-to-VLAN connectivity at any tier of the data center network, from server access to the edge. The QFX10000 can integrate with NSX through data plane (VXLAN) and control and management plane (OVSDB) protocols to centrally automate and orchestrate the data center network.
FCoE
As Fibre Channel over Ethernet (FCoE) transit switches, the QFX10000 line provides an IEEE data center bridging (DCB) converged network between FCoE-enabled servers and an FCoE-enabled Fibre Channel storage area network (SAN). The QFX10000 offers a full-featured DCB implementation that provides strong monitoring capabilities, helping SAN and LAN administration teams maintain clear management separation. The FCoE transit switch functionality, including priority-based flow control (PFC) and Data Center Bridging Capability Exchange (DCBX), are included as part of the default software.
Specifications:
Line Card Specifications
Model:
QFX10000-36Q
QFX10000-30C
QFX10000-60S-6Q
Dimensions (W x H x D)
17.2 x 1.89 x 20.54 in
(43.7 x 4.8 x 52.2 cm)
17.2 x 1.89 x 20.54 in
(43.7 x 4.8 x 52.2 cm)
17.2 x 1.89 x 20.54 in
(43.7 x 4.8 x 52.2 cm)
Weight
22.6 lbs (10.2 kg)
27 lbs (12.2 kg)
21.4 lbs (9.7 kg)
Maximum 10GbE port density
144
96
84
Maximum 40GbE port density
36
30
6
Maximum 100GbE port density
12
30
2
Buffer
12 GB
12 GB
8 GB
Software
Media access control (MAC) addresses
Up to 1 million
ARP entries
Up to 510,000, or 64,000 per PFE
Jumbo frames
9,216 Bytes maximum
VLANs
4,093
Forwarding information base (FIB) (IPv4/IPv6)
Up to 2 million
Host routes
Up to 2 million
ECMP
64-way
IPv4 Multicast routes
Up to 128,000
IPv6 Multicast routes
Up to 128,000
Multicast groups
Up to 128,000
Filters
Up to 8,000
Filter terms
Up to 64,000
Policers
Up to 8,000
Output queues per port
8
Virtual Output Queues
384,000 per PFE
Link aggregation groups (LAG)
448
Distributed BFD sessions
200/line card
Members / LAG
64
BGP neighbors (Premium Feature License)
1,024
GRE tunnels
2,000
MPLS Layer 3 VPNs (Advanced Feature License)
4,096
LSPs (ingress/egress/transit) (Advanced Feature License)
4,000
Environmental Ranges
Operating temperature
32° to 104° F (0° to 40° C)
Storage temperature
-40° to 158° F (-40° to 70° C)
Operating altitude
Up to 10,000 ft (3,048 m)
Relative humidity operating
5% to 90% (noncondensing)
Relative humidity non-operating
5% to 95% (noncondensing)
Seismic
Designed to meet GR-63, Zone 4 earthquake requirements
Additional Feature Specifications:


Layer 2 Features
802.1D – Spanning Tree Protocol (STP)
802.1w – Rapid Spanning Tree Protocol (RSTP)
802.1s – Multiple Spanning Tree Protocol (MSTP)
VLAN Spanning Tree Protocol (VSTP)
802.1AB Link Layer Discovery Protocol (LLDP)
VLAN Registration Protocol
QinQ
Link Aggregation
802.3ad – Link Aggregation Control Protocol (LACP)
Multi-chassis Link Aggregation (MC-LAG)
Layer 3 Features
Static routing
RIP v1/v2
OSPF v1/v2
OSPF v3
Filter-based forwarding
Virtual Router Redundancy Protocol (VRRP)
IPv6
Bidirectional Forwarding Detection (BFD)
Virtual routers
Unicast reverse path forwarding (uRPF)
Loop-free alternate (LFA)
BGP (Premium Feature license or Advanced Feature license)
IS-IS (Premium Feature license or Advanced Feature license)
DHCP v4/v6 relay
VR-aware DHCP
IPv4 / IPv6 over GRE tunnels (interface-based)
Multicast Features
Internet Group Management Protocol (IGMP) v1/v2/v3
Multicast Listener Discovery (MLD) v1/v2
IGMP Proxy, Querier
IGMP snooping
MLD snooping
Protocol Independent Multicast PIM-SM, PIM-SSM, PIM-DM
Multicast Source Discovery Protocol (MSDP)
Firewall Filters
Ingress and egress L2-L4 access control lists (ACLs):

Port ACLs
VLAN ACLs
Router ACLs

Control plane denial-of-service (DoS) protection
Quality of Service (QoS)
Single rate three color policer
Two rate three-color policer
Congestion prevention:

Weighted random early detection (WRED)
Tail drop
Explicit congestion notification (ECN) marking

Priority-based scheduling:

Low-latency queuing with strict high priority
Weighted round-robin (WRR) queuing
MPLS (Advanced Feature License)
LDP
RSVP
LDP tunneling (LDP over RSVP)
Fast reroute (FRR)
IPv6 tunneling (6PE)
Ingress, transit, and egress label-switched paths (LSPs)
IPv4 Layer 3 VPNs
IPv6 Layer 3 VPNs (6VPE)
Layer 2 circuits
Overlays (Premium Feature License or Advanced Feature License)
Integration with Juniper Networks Contrail*
Integration with VMware NSX SDN controller*
VXLAN
Open vSwitch Database (OVSDB)
VXLAN L2 and L3 gateway
Ethernet VPN (EVPN)-VXLAN
High Availability
Graceful Routing Engine switchover (GRES)
Nonstop active routing (NSR)
Nonstop bridging (NSB)
Timing
Precision Timing Protocol (PTP)
Visibility
Switched Port Analyzer (SPAN)
RSPAN
ERSPAN
Firewall filter-based port mirroring
sFlow v5
Data Center Bridging
Priority-based flow control (PFC)—IEEE 802.1Qbb
Data Center Bridging Exchange Protocol (DCBX), DCBx FCoE, and iSCSI type, length, and value (TLVs)
Management and Operations
Junos Space Network Director
Junos OS CLI via console, telnet, SSH
Out-of-band management: Serial; 10/100/1000BASE-T Ethernet
Role-based CLI management and access
Junos XML management protocol
ASCII configuration file
SNMP v1/v2/v3
RADIUS
TACACS+
Extensive MIB support
Junos OS configuration rescue and rollback
Image rollback
OpenStack Neutron Plug-in
Puppet
Chef
Python
Junos OS event, commit and OP scripts
RMON (RFC 2819): Groups 1, 2, 3, 9
Network Time Protocol (NTP)
SSHv2
Secure copy
DNS resolver
System logging
Environment monitoring
Temperature sensor
Configuration backup via FTP/secure copy
Troubleshooting
Debugging: CLI via console, telnet, or SSH
Diagnostics: Show, debug, and statistics commands
Port mirroring
IP tools: Extended ping and trace
Juniper Networks commit and rollback
IEEE Compliance
IEEE 802.1AB: Link Layer Discovery Protocol (LLDP)
IEEE 802.1ad: QinQ
IEEE 802.1D-2004: Spanning Tree Protocol (STP)
IEEE 802.1p: Class-of-service (CoS) prioritization
IEEE 802.1Q: Virtual Bridged Local Area Networks
IEEE 802.1s: Multiple Spanning Tree Protocol (MSTP)
IEEE 802.1w: Rapid Spanning Tree Protocol (RSTP)
IEEE 802.3: 10BASE-T
IEEE 802.3u: 100BASE-T
IEEE 802.3ab: 1000BASE-T
IEEE 802.3z: 1000BASE-X
IEEE 802.3ae: 10-Gigabit Ethernet
IEEE 802.3ba: 40-Gigabit/100-Gigabit Ethernet
IEEE 802.3ad: Link Aggregation Control Protocol (LACP)
IEEE 802.1Qbb: Priority-based Flow Control
IEEE 802.1Qaz: Enhanced Transmission Selection
RFC Compliance
RFC 768: UDP
RFC 783: Trivial File Transfer Protocol (TFTP)
RFC 791: IP • RFC 792: Internet Control Message Protocol (ICMP)
RFC 793: TCP
RFC 826: ARP
RFC 854: Telnet client and server
RFC 894: IP over Ethernet
RFC 903: Reverse Address Resolution Protocol (RARP)
RFC 906: TFTP Bootstrap
RFC 951, 1542: BootP
RFC 1027: Proxy ARP
RFC 1058: RIP v1
RFC 1112: IGMP v1
RFC 1122: Host Requirements
RFC 1142: OSI IS-IS Intra-domain Routing Protocol
RFC 1256: IPv4 ICMP Router Discovery Protocol (IRDP)
RFC 1492: TACACS+
RFC 1519: Classless Interdomain Routing (CIDR)
RFC 1587: OSPF NSSA Option
RFC 1591: Domain Name System (DNS)
RFC 1745: BGP4/IDRP for IP-OSPF Interaction
RFC 1765: OSPF Database Overflow
RFC 1771: Border Gateway Protocol 4
RFC 1772: Application of the Border Gateway Protocol in the Internet
RFC 1812: Requirements for IP Version 4 Routers
RFC 1965: Autonomous System Confederations for BGP
RFC 1981: Path maximum transmission unit (MTU) discovery for IPv6
RFC 1997: BGP Communities Attribute
RFC 2030: Simple Network Time Protocol (SNTP)
RFC 2068: HTTP server
RFC 2080: RIPng for IPv6
RFC 2081: RIPng Protocol Applicability Statement
RFC 2131: BOOTP/Dynamic Host Configuration Protocol (DHCP) relay agent and DHCP server
RFC 2138: RADIUS Authentication
RFC 2139: RADIUS Accounting
RFC 2154: OSPF with Digital Signatures (password, Message Digest 5)
RFC 2236: IGMP v2
RFC 2267: Network Ingress Filtering
RFC 2270: BGP-4 Dedicated autonomous system (AS) for sites/single provider
RFC 2283: Multiprotocol Extensions for BGP-4
RFC 2328: OSPF v2 (Edge mode)
RFC 2338: VRRP
RFC 2362: PIM-SM (Edge mode)
RFC 2370: OSPF Opaque LSA Option
RFC 2373: IPv6 Addressing Architecture
RFC 2375: IPv6 Multicast Address Assignments
RFC 2385: TCP MD5 Authentication for BGPv4
RFC 2439: BGP Route Flap Damping
RFC 2453: RIP v2
RFC 2460: Internet Protocol, v6 (IPv6) specification
RFC 2461: Neighbor Discovery for IP Version 6 (IPv6)
RFC 2462: IPv6 Stateless Address Autoconfiguration
RFC 2463: ICMPv6
RFC 2464: Transmission of IPv6 Packets over Ethernet Networks
RFC 2474: DiffServ Precedence, including 8 queues/port
RFC 2526: Reserved IPv6 Subnet Anycast Addresses
RFC 2545: Use of BGP-4 Multiprotocol Extensions for IPv6 Interdomain Routing
RFC 2547: BGP/MPLS VPNs
RFC 2597: DiffServ Assured Forwarding (AF)
RFC 2598: DiffServ Expedited Forwarding (EF)
RFC 2697: A Single Rate Three Color Marker
RFC 2698: A Two Rate Three Color Marker
RFC 2710: Multicast Listener Discovery (MLD) for IPv6
RFC 2711: IPv6 Router Alert Option
RFC 2740: OSPF for IPv6
RFC 2796: BGP Route Reflection (supersedes RFC 1966)
RFC 2796: Route Reflection
RFC 2858: Multiprotocol Extensions for BGP-4
RFC 2893: Transition Mechanisms for IPv6 Hosts and Routers
RFC 2918: Route Refresh Capability for BGP-4
RFC 3031: Multiprotocol Label Switching Architecture
RFC 3032: MPLS Label Stack Encoding
RFC 3036: LDP Specification
RFC 3065: Autonomous System Confederations for BGP
RFC 3176: sFlow
RFC 3215: LDP State Machine
RFC 3306: Unicast Prefix-based IPv6 Multicast Addresses
RFC 3376: IGMP v3
RFC 3392: Capabilities Advertisement with BGP-4
RFC 3446: Anycast Rendevous Point (RP) Mechanism using PIM and MSDP
RFC 3478: Graceful Restart for Label Distribution Protocol
RFC 3484: Default Address Selection for IPv6
RFC 3513: Internet Protocol Version 6 (IPv6) Addressing
RFC 3569: PIM-SSM PIM Source Specific Multicast
RFC 3587: IPv6 Global Unicast Address Format
RFC 3618: Multicast Source Discovery Protocol (MSDP)
RFC 3623: OSPF Graceful Restart
RFC 3768: Virtual Router Redundancy Protocol (VRRP)
RFC 3810: Multicast Listener Discovery Version 2 (MLDv2) for IP
RFC 3973: PIM-Dense Mode
RFC 4213: Basic Transition Mechanisms for IPv6 Hosts and Routers
RFC 4291: IPv6 Addressing Architecture
RFC 4360: BGP Extended Communities Attribute
RFC 4364: BGP/MPLS IP Virtual Private Networks (VPNs)
RFC 4443: ICMPv6 for the IPv6 specification
RFC 4486: Sub codes for BGP Cease Notification message
RFC 4552: Authentication/Confidentiality for OSPFv3
RFC 4604: Using Internet Group Management Protocol Version 3 (IGMPv3)
RFC 4724: Graceful Restart Mechanism for BGP
RFC 4798: Connecting IPv6 Islands over IPv4 MPLS Using IPv6 Provider Edge Routers (6PE)
RFC 4861: Neighbor Discovery for IPv6
RFC 4862: IPv6 Stateless Address Autoconfiguration
RFC 5095: Deprecation of Type 0 Routing Headers in IPv6
RFC 5286, Basic Specification for IP Fast Reroute: Loop-Free Alternates
RFC 5306: Restart Signaling for IS-IS
RFC 5308: Routing IPv6 with IS-IS
RFC 5340: OSPF for IPv6
RFC 5880: Bidirectional Forwarding Detection
Network Management—MIB Support
RFC 1155: Structure of Management Information (SMI)
RFC 1157: SNMPv1
RFC 1212, RFC 1213, RFC 1215: MIB-II, Ethernet-like MIB, and traps
RFC 1657: BGP-4 MIB
RFC 1724: RIPv2 MIB
RFC 1850: OSPFv2 MIB
RFC 1901: Introduction to Community-based SNMPv2
RFC 1902: Structure of Management Information for Version 2 of the Simple Network Management Protocol (SNMPv2)
RFC 1905, RFC 1907: SNMP v2c, SMIv2, and Revised MIB-II
RFC 2011: SNMPv2 for IP using SMIv2
RFC 2012: SNMPv2 for transmission control protocol using SMIv2
RFC 2013: SNMPv2 for user datagram protocol using SMIv2
RFC 2096: IPv4 Forwarding Table MIB
RFC 2287: System Application Packages MIB
RFC 2465: Management Information Base for IP Version 6
RFC 2570–2575: SNMPv3, user-based security, encryption, and authentication
RFC 2576: Coexistence between SNMP Version 1, Version 2, and Version 3
RFC 2578: SNMP Structure of Management Information MIB
RFC 2579: SNMP Textual Conventions for SMIv2
RFC 2665: Ethernet-like interface MIB
RFC 2787: VRRP MIB
RFC 2819: RMON MIB
RFC 2863: Interface Group MIB
RFC 2863: Interface MIB
RFC 2922: LLDP MIB
RFC 2925: Ping/Traceroute MIB
RFC 2932: IPv4 Multicast MIB
RFC 3410: Introduction and Applicability Statements for Internet Standard Management Framework
RFC 3411: An architecture for describing SNMP Management Frameworks
RFC 3412: Message Processing and Dispatching for the SNMP
RFC 3413: SNMP Application MIB
RFC 3414: User-based Security Model (USM) for version 3 of SNMPv3
RFC 3415: View-based Access Control Model (VACM) for the SNMP
RFC 3416: Version 2 of the Protocol Operations for the SNMP
RFC 3417: Transport Mappings for the SNMP
RFC 3418: Management Information Base (MIB) for the SNMP
RFC 3584: Coexistence between Version 1, Version 2, and Version 3 of the Internet-standard Network Management Framework
RFC 3826: The Advanced Encryption Standard (AES) Cipher Algorithm in the SNMP
RFC 4188: STP and Extensions MIB
RFC 4363: Definitions of Managed Objects for Bridges with traffic classes, multicast filtering, and VLAN extensions
Draft-ietf-idr-bgp4-mibv2-02.txt: Enhanced BGP-4 MIB
Draft-ietf-isis-wg-mib-07
Draft-reeder-snmpv3-usm-3desede-00
Draft-ietf-idmr-igmp-mib-13
Draft-ietf-idmr-pim-mib-09
Draft-ietf-bfd-mib-02.txt
Safety and Compliance
Safety
CAN/CSA-C22.2 No. 60950-1 Information Technology Equipment—Safety
UL 60950-1 Information Technology Equipment—Safety
EN 60950-1 Information Technology Equipment—Safety
IEC 60950-1 Information Technology Equipment—Safety (All country deviations)
EN 60825-1 Safety of Laser Products—Part 1: Equipment Classification
Electromagnetic Compatibility
47CFR Part 15, (FCC) Class A
ICES-003 Class A
EN 55022 Class A
CISPR 22 Class A
EN 55024
CISPR 24
EN 300 386
VCCI Class A
AS/NZA CISPR22 Class A
KN22 Class A
CNS 13438 Class A
EN 61000-3-2
EN 61000-3-3
ETSI
ETSI EN 300 019: Environmental Conditions & Environmental Tests for Telecommunications Equipment
ETSI EN 300 019-2-1 (2000)—Storage
ETSI EN 300 019-2-2 (1999)—Transportation
ETSI EN 300 019-2-3 (2003)—Stationary Use at Weatherprotected Locations
ETSI EN 300 019-2-4 (2003)—Stationary Use at NonWeather-protected Locations
ETS 300753 (1997)—Acoustic noise emitted by telecommunications equipment
Environmental Compliance
Restriction of Hazardous Substances (ROHS) 6/6
China Restriction of Hazardous Substances (ROHS)
Registration, Evaluation, Authorisation and Restriction of Chemicals (REACH)
Waste Electronics and Electrical Equipment (WEEE)
Recycled material
80 Plus Silver PSU Efficiency
Telco
Common Language Equipment Identifier (CLEI) code
Pricing Notes:
Pricing and product availability subject to change without notice.
Juniper Products
QFX10000 Line Cards
QFX10000 30-port 100G QSFP28 /24-port 40G QSFP+ with 6-port 100G QSFP28 Line Card
Juniper Care
Juniper Care Core Support for QFX10000-30C
#SVC-COR-QFX10K30C
List Price:
$4,201.00
Our Price: $3,570.85
Juniper Care Core Plus Support for QFX10000-30C
#SVC-CP-QFX10K30C
List Price:
$4,727.00
Our Price: $4,017.95
Juniper Care Next Day Support for QFX10000-30C
#SVC-ND-QFX10K30C
List Price:
$5,252.00
Our Price: $4,464.20
Juniper Care Next Day Onsite Support for QFX10000-30C
#SVC-NDCE-QFX10K30C
List Price:
$6,565.00
Our Price: $5,580.25
Juniper Care Same Day Support for QFX10000-30C
#SVC-SD-QFX10K30C
List Price:
$8,402.00
Our Price: $7,141.70
Juniper Care Same Day Onsite Support for QFX10000-30C
#SVC-SDCE-QFX10K30C
List Price:
$10,503.00
Our Price: $8,927.55