Juniper AP61 Access Point

Outdoor 802.11ac Wave 2 Wi-Fi and Bluetooth LE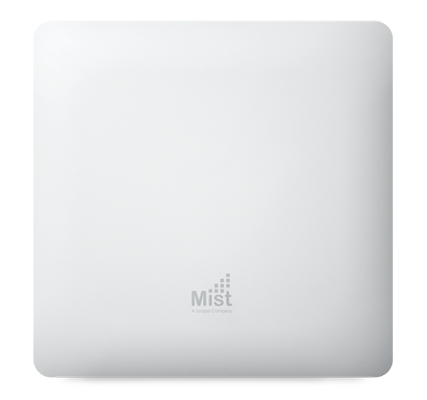 Juniper Products
Juniper Access Points
Juniper AP61 Access Point (Internal Antenna)
#AP61-US
List Price:
$2,903.00
Our Price: $2,336.92
Juniper AP61 Access Point (External Antenna)
#AP61E-US
List Price:
$2,903.00
Our Price: $2,336.92
Click here to jump to more pricing!
Overview:
The Juniper AP61 is an outdoor access point that support 802.11ac Wave 2 Wi-Fi, patented Bluetooth LE, and Internet of Things (IoT) integration. The AP61 works in conjunction with the Juniper Mist Cloud Architecture driven by Mist AI to collect and analyze metadata in near real-time from all wireless clients. This enables rapid problem detection and root cause identification with predictive recommendations and proactive correction, realizing the self-driving networks. The AP61 has a dynamic vBLE 16-element antenna array for the industry's most accurate and scalable location services, including User Engagement, Asset Visibility, and Contact Tracing applications. This is achieved without the need for battery-powered BLE beacons and manual calibration.
Juniper AI-Driven Network
Juniper brings true innovation to the wireless space with the world's first AI-driven wireless LAN (WLAN).
The Juniper AI-Driven Enterprise makes Wi-Fi predictable, reliable, and measurable with unprecedented visibility into the user experience through customizable service level expectation (SLE) metrics. Time-consuming manual IT tasks are replaced with AI-driven proactive automation and self-healing, lowering Wi-Fi operational costs and saving substantial time and money.
All operations are managed via our open and programmable microservices architecture, which delivers maximum scalability and performance while also bringing DevOps agility to wireless networking and location services.
The Juniper Mist Cloud Architecture
Juniper's Mist AI leverages a cloud-native microservices architecture that delivers unparalleled agility, scale, and resiliency to your network. An AI engine lowers OpEx and delivers insights by using data science to analyze large amounts of rich metadata collected from Juniper Access Points.
Juniper Mist Edge
Juniper Mist Edge is an on-premises appliance that runs a tunnel termination service. Juniper APs offer a flexible data plane. Traffic can be broken out locally, or tunneled to Juniper Mist Edge. There are many use cases the Juniper Mist Edge solves, including seamless mobility in large campus environments, tunneling of guest traffic to a DMZ, IoT segmentation, and teleworker.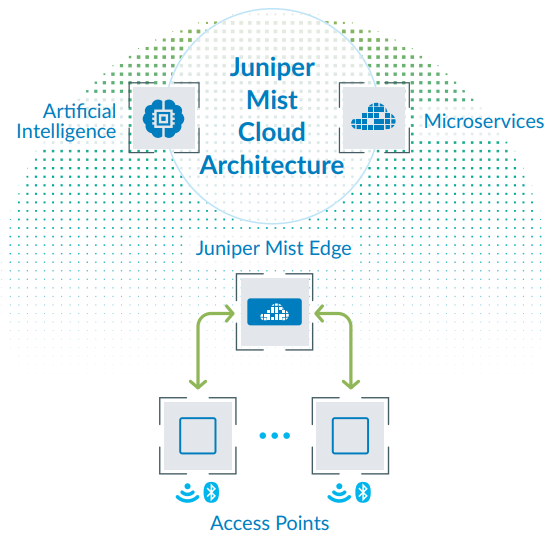 Features:
High Performance Outdoor Wi-Fi Access
The AP61 delivers high-performance wireless access with three 802.11ac Wave 2 radios that deliver up to 1,730 Mbps in the 5GHz band and up to 800 Mbps in the 2.4GHz band. Whether you want to extend your users' experiences outside the four walls or you want to set up pervasive outdoor wireless with mesh backhaul, the AP61 delivers the best performance with the simplest operations in an industrial-grade form factor.
Unprecedented Insight and Action
A dedicated dual-band radio collects data for Juniper's patent-pending Proactive Analytics and Correlation Engine (PACE), which leverages machine learning to analyze user experiences, correlate problems, and automatically detect the root cause of problems. These metrics are used to monitor service-level expectations (SLEs) and provide proactive recommendations to ensure problems don't occur (or are fixed as quickly as possible when they do).
Automatic RF optimization
The AP61's dual-band scanning mode continuously scans the airspace for threats and interference. This ensures optimal performance under what could otherwise be challenging RF conditions. The AP61's dual-band sensor continuously scans the airspace for threats and interference.
Dynamic Packet Capture
The Juniper Mist platform automatically captures packets and streams them to the cloud when major issues are detected. This saves IT time and effort and eliminates the need for truck rolls with sniffers.

Marvis Virtual Conversational Assistant
Marvis is a natural language processing (NLP)-based assistant with a Conversational Interface to understand user intent and goals, simplifying troubleshooting and the collection of network insights. It uses AI and data science to proactively identify issues, determine the root causes and scope of impact, and gain insights into your network and user experiences. It eliminates the need to manually hunt through endless dashboards and CLI commands.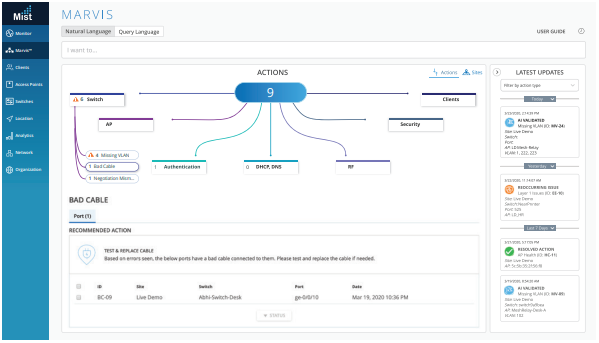 Effortless, Cloud-Based Setup and Updates
The AP61 automatically connects to the Juniper Mist cloud, downloads its configuration, and joins the appropriate network. Firmware updates are retrieved and installed automatically, ensuring that the network is always up to date with new features, bug fixes, and security updates.
Premium Analytics
Juniper Mist's Wireless Assurance, User Engagement and Asset Visibility service includes a base analytics capability for analyzing up to 30 days of data, from which you can extract network insights across your enterprise. To extend these capabilities for more dynamic insights like motion paths and other third-party data, along with the option to generate customized reports, the Juniper Mist Premium Analytics service is available as an additional subscription.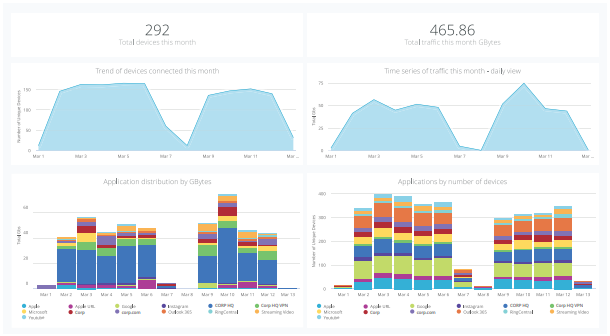 Dynamic Debugging
Constantly monitor services running on the AP61 and send alerts whenever a service behaves abnormally. Dynamic debugging relieves IT of having to worry about an AP going offline or any services running on it becoming unavailable.
High-Accuracy Indoor Location
The AP61 has a 16-element Virtual Bluetooth LE (vBLE) antenna array controlled from the Juniper Mist cloud. Passive antennas enhance the power of a single transmitter and produce directional beams to accurately detect distance and location with 1 to 3 meter accuracy. With Juniper's patented vBLE technology, you can deploy an unlimited number of virtual beacons in your physical environment without requiring battery-powered BLE beacons.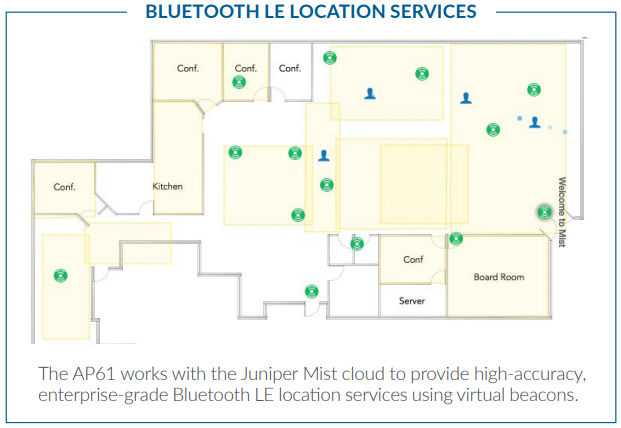 Patented VBLE Technology
In addition to the industry-leading Wi-Fi technology at the heart of the AP43 access point, our second-generation, patented, and dynamic, 16-element virtual Bluetooth LE (vBLE) antenna array combines with machine learning to eliminate the need for battery-powered beacons. This maximizes scalability and optimizes your deployment investment in location-based services. vBLE enables businesses to provide rich location-based experiences that are engaging, accurate, real-time, and scalable.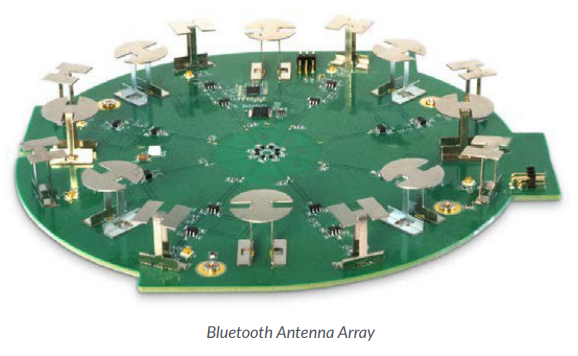 Specifications:
AP61 Access Point Specifications
Wi-Fi Standard
802.11ac Wave 2
Combined Highest Supported Data Rates
2.5 Gbps
2.4 GHz
4x4:4 802.11b/g/n/ac up to 800 Mbps data rate. 802.11ac for VHT-capable proprietary clients
5 GHz
4x4:4 802.11a/n/ac Wave 2 up to 1,733 Mbps data rate
MIMO
MU-MIMO (Multi-User)
SU-MIMO (Single-User)
Dedicated Third Radio
2.4GHz and 5GHz dual-band WIDS/WIPS, spectrum analysis and location analytics radio
Antenna Options
Internal and External
Bluetooth
16 directional antenna + 1 omni antenna
Beam Forming
Transmit Beamforming and Maximal Ratio Combining
Power Options
802.3at PoE
Dimensions
310mm x 310mm x 107mm (12.2in x 12.2in x 4.3in)
Weight
Internal Antenna - 4.309 kg (9.5 lbs)
External Antenna – 4.5 35 kg (10 lbs)
Operating Temperature
-20° to 65° C; no solar loading
-20° to 55° C; with solar loading
Operating Humidity
10% to 90% maximum relative humidity, noncondensing
Operating Altitude
3,048 m (10,000 ft)
Enclosure
IP67 / NEMA 4 compliant
Electromagnetic Emissions
FCC Part 15 Class B
I/O
One 10/100/1000BASE-T auto-sensing RJ-45 with PoE
One 10/100/1000BASE-T auto-sensing RJ-45
Indicators
Multi-color status LED
Compliance Standards
UL 60950-1
CAN/CSAC22.2
No. 60950-1
FCC Part 15.247, 15.407, 15.107, and 15.109
RSS247
ICES003 (Canada)
Certification
Class 1, Division 2 for hazardous locations
I/O Ports and Accessories
Ethernet0+PoE
10/100/1000 BaseT RJ45 interface that supports 802.3at PoE
Ethernet1
10/100/1000 BaseT RJ45 interfac
Reset
Reset to the factory default settings
Brackets
Vertical, tilt and horizontal mounting kit included
Kensington Lock
No
Services Available for the Juniper AP61
Wi-Fi Cloud Services
Juniper Mist Wi-Fi Assurance

For IT and NOC Teams

Predictable and Measurable Wi-Fi
Service Level Expectation (SLE) Support
WxLAN Policy Fabric for Role-Based Access
Customizable Guest Wi-Fi Portal
AI-Driven Radio Resource Management

Marvis Virtual Assistant

For IT Helpdesk Teams

AI-Powered Virtual Network Assistant
Natural Language Processing Conversational Interface
Anomaly Detection
Client SLE Visibility and Enforcement
Data Science-Driven Root-Cause Analysis
Bluetooth Cloud Services
Juniper Mist Mobile Engagement

For Digital Experience Teams

Accurate (1-3m) Turn-by-Turn Navigation
Sensor Fusion with Dead Reckoning
Unsupervised Machine Learning
Virtual Beacons with Custom Notifications
Mobile SDK for iOS and Android

Juniper Mist Asset Visibility

For Process and Resource Improvement Teams

Identification of Assets by Name and View Location
Zonal/Room Accuracy for Third-Party Tags
Historical Analytics for Asset Tags
Telemetry for Asset Tags (temperature, motion, and other data)
APIs for Viewing Assets and Analytics
Analytics Cloud Services
Juniper Mist Premium Analytics

For Network Teams

Baseline Analytics Features Come Included with Wi-Fi Assurance, Mobile Engagement, and Asset Visibility Subscriptions
End-to-End Network Visibility
Orchestrated Networking and Application Performance Queries
Simplified Network Transparency

For Business Teams

Baseline Analytics Features Come Included with Wi-Fi Assurance, Mobile Engagement, and Asset Visibility Subscriptions
Customer Segmentation and Reporting Based on Visitor Telemetry
Customized* Dwell and Third-Party Reporting for Traffic and Trend Analysis
Correlation of Customer-Guest Traffic and Trend Analysis
*Based on Telcordia SR-332 issue 3, Method I, Case 3 and measured at temperature of 25°C (77°F) for indoor access points, and 65°C (149°F) for outdoor access points.
Compare:
AP61
AP43
AP41
AP21
BT11
Deployment
Outdoor
Indoor
Indoor
Indoor
Indoor
Wi-Fi Standard
802.11ac Wave2 4x4 : 4
802.11ax (Wi-Fi 6 ) 4x4 : 4SS
802.11ac Wave2 4x4 : 4
802.11ac Wave2 2x2 : 2
—
Wi-Fi Radios
Dedicated third radio
Dedicated third radio
Dedicated third radio
—
—
Antenna Options
Internal/External
Internal/External
Internal/External
Internal
Internal
Virtual BLE
IoT Interface
—
—
—
IoT Sensors
—
Humidity,
Pressure,
Temperature
—
—
—
Warranty
One Year
Limited Lifetime
Limited Lifetime
Limited Lifetime
Limited Lifetime
Frequencies Supported
2.4GHz
5GHz
2.4GHz
5GHz
6GHz
2.4GHz
5GHz
2.4GHz
5GHz
2.4GHz
5GHz
Pricing Notes:
Pricing and product availability subject to change without notice.
Juniper Products
Juniper Access Points
Juniper AP61 Access Point (Internal Antenna)
#AP61-US
List Price:
$2,903.00
Our Price: $2,336.92
Juniper AP61 Access Point (External Antenna)
#AP61E-US
List Price:
$2,903.00
Our Price: $2,336.92