Juniper SD-WAN

Designed for the modern cloud.

Boost user experiences, automate operations, and lower costs.
Many organizations, large and small, have transitioned from traditional WAN routing to SD-WAN to reap the availability, quality, and capacity for distributed locations. Through policy abstraction, centralized management, and intelligent traffic handling, SD-WAN delivers several key benefits.
Increased visibility into network and application behavior for users and IoT devices.
Increased application performance at a lower cost through improved link selection.
Lowered OpEx by reducing manual configuration and on-site resources.
More efficient network design to take advantage of SaaS-based applications.
However, the surge in the number of remote workers and the shift of most applications from centralized data centers to cloud-hosted SaaS requires a new paradigm for operating enterprise WAN that augments the merits of SD-WAN. Enter the AI-driven WAN.
AI-Driven WAN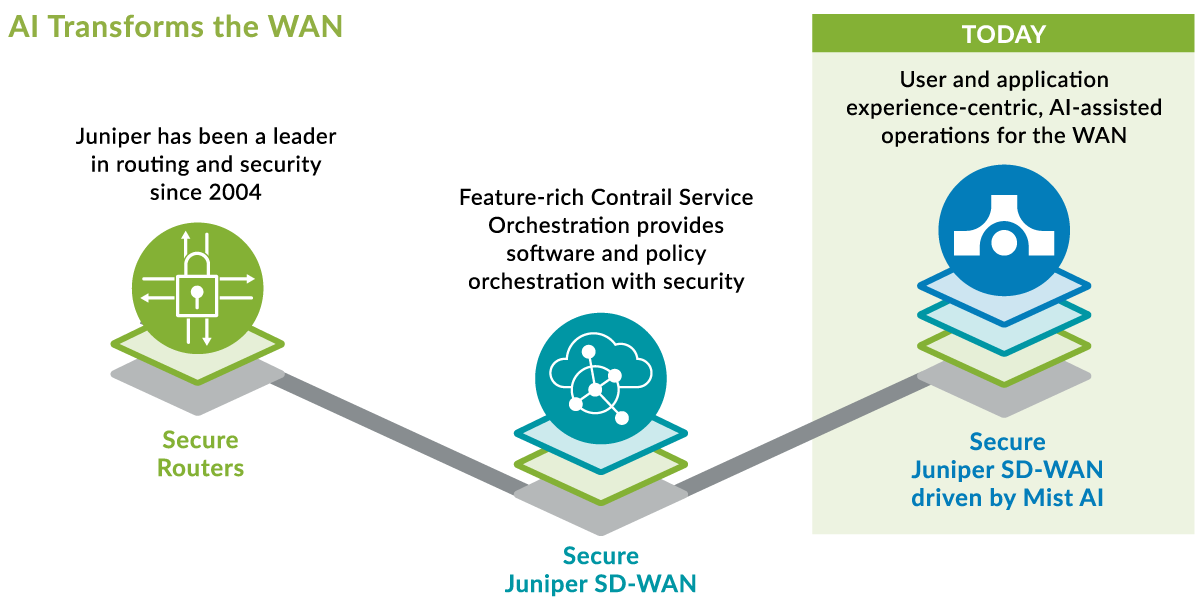 The Juniper AI-Driven WAN combines our SD-WAN solution with insights and automation driven by Mist AI. It delivers the simplicity, reliability, and agility your IT teams need in the modern era of distributed networking.
Focus on user experiences, from client to cloud.
Deliver exceptional user experiences
Competitive SD-WAN solutions focus only on network and application conditions to address issues with network availability, quality, and capacity. They lack insight into the actual user experience. Afterall, an "up" WAN link doesn't always imply a "good" user experience. We shift the focus on the user experience, through AI-driven insight, automation, and self-driving actions across the WLAN, LAN, and WAN. The AI-driven WAN enables you to measure and drive end-to-end user experiences with the following unique features.
Customizable service-level expectations (SLEs) with proactive anomaly detection.
Event correlation across the LAN and WAN for rapid fault isolation and resolution
An AI-driven virtual network assistant, Marvis, for deep insight into client and network behavior, recommended troubleshooting actions, and Self-Driving Network™ operations
AI-driven support with proactive notifications and remediation.