Juniper Networks QFX10000 Ethernet Switches

High-Density, Highly Scalable, Future-Proofed Spine Switches Optimized for the Cloud
The QFX10000 line of industry-leading switches offers a highly scalable, high-density network foundation for supporting today's most demanding data center and cloud environments, including midsize to large data centers, private clouds, and public clouds.
Using custom, Juniper-built ASICs, the high-performance, highly versatile QFX10000 switches scale from 3 to 96 Tbps of throughput, delivering the capacity you need for long-term investment protection.
Additionally, by offering the industry's highest 100GbE port density—up to 480 in a single chassis—the QFX10000 gives you the power to seamlessly evolve your data center networks from existing 10GbE and 40GbE architectures to 100GbE, to keep pace with evolving requirements.
The QFX10000 switches are also designed to accommodate future chipset upgrades capable of delivering up to 200 Tbps of throughput, with support for 400GbE interfaces (when available).
The QFX10000 switches also serve as the foundation for the Junos Fusion architecture, a new standards-based approach for creating an open, highly scalable switch fabric. Junos Fusion dramatically simplifies data center and cloud deployments while reducing management overhead.
Designed to function as a common building block in a variety of other network architectures and fabrics, QFX10000 switches give you maximum flexibility and ensure that you will never be locked into a proprietary solution. This architectural flexibility enables the QFX10000 switches to operate in diverse network environments, including Layer 3 spine-and-leaf Clos fabrics and L2/L3 networks with Juniper multichassis link aggregation (MC-LAG).
Industry-Leading Scale
Industry-leading scale—up to 96 Tbps, scalable to over 200 Tbps in the future—protects your investments as your business and traffic expand.
No Performance Trade-Offs
Multidimensional performance improves your application performance while eliminating performance trade-offs across physical, logical, and overlay networks.
Seamless Transitions
Multigenerational scalability provides investment protection by allowing you to transition seamlessly from 10GbE to 40GbE, 100GbE, and in the future, 400GbE.
Architectural Flexibility
L3 fabric and MC-LAG for L2 and L3 networks, giving customers complete architectural flexibility.
QoS
High-performance custom silicon enables deep buffers that ensure quality of service.
Juniper Silicon
Juniper-designed Q5 ASIC that solves difficult spine and aggregation challenges in the data center.
Precision Time Protocol Support
PTP support for financial trading and time-stamping packets for precision network analytics with Juniper's Cloud Analytics Engine.
QFX10002 Fixed Ethernet Switches

Up to 2.88 Tbps System Throughput
Up to 1 Bpps Forwarding Capacity
144 Maximum 10GbE port density
36 Maximum 40GbE port density
12 Maximum 100GbE port density

Up to 5.76 Tbps System Throughput
Up to 2 Bpps Forwarding Capacity
288 Maximum 10GbE port density
72 Maximum 40GbE port density
24 Maximum 100GbE port density
QFX10000 Modular Ethernet Switches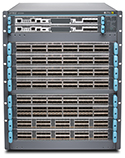 8 I/O slots
Up to 48 Tbps System Throughput
Up to 16 Bpps Forwarding Capacity
7.2 Tbps Maximum Bandwidth/Slot
1,152 Maximum 10GbE port density
288 Maximum 40GbE port density
240 Maximum 100GbE port density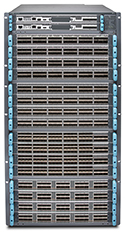 16 I/O slots
Up to 96 Tbps System Throughput
Up to 32 Bpps Forwarding Capacity
7.2 Tbps Maximum Bandwidth/Slot
2,304 Maximum 10GbE port density
576 Maximum 40GbE port density
480 Maximum 100GbE port density
QFX10000 Line Cards
The QFX10000 line cards support an extensive set of Layer 2 and Layer 3 services that can be deployed in any combination of L2- L3 applications. Each QFX10000 line card is unique in its ability to support tri-speed 10GbE, 40GbE and 100GbE connections, enabling customers to transition seamlessly from one speed to another as their needs change. The unprecedented port density, high logical table sizes and up to 100ms deep packet buffers allow customers to deploy the most scalable systems necessary to meet the exponential data growth in the data center. Each QFX10000 line card is built upon the Juniper Q5 silicon, which supports a wide range of Layer 2 and Layer 3 Ethernet functionality including 802.1Q VLAN, VXLAN, link aggregation, Virtual Router Redundancy Protocol (VRRP), L2 to L3 mapping, and port monitoring. Additionally, the line cards support filtering, sampling, load balancing, rate limiting, class of service (CoS), MPLS, Fibre Channel over Ethernet (FCoE) transit functionality, and other key features needed to deploy a dependable, lossless, high-performance Ethernet infrastructure.
QFX10000 Line Cards

36-port 40GbE quad small form-factor pluggable plus transceiver (QSFP+) or 12-port 100GbE QSFP28 line card
144 Maximum 10GbE port density
36 Maximum 40GbE port density
12 Maximum 100GbE port density
12 GB Buffer

30-port 100GbE QSFP28/40GbE QSFP+ line card
96 Maximum 10GbE port density
30 Maximum 40GbE port density
30 Maximum 100GbE port density
12 GB Buffer

60-port 1GbE/10GbE SFP/SFP+ line card with six-port 40GbE QSFP+ / two-port 100GbE QSFP28
84 Maximum 10GbE port density
6 Maximum 40GbE port density
2 Maximum 100GbE port density
8 GB Buffer