Juniper Networks QFX5220 Ethernet Switches

Next-Generation, Fixed-Configuration Spine-and-Leaf Switch
The QFX5220 line supports very large, dense, and fast data center fabrics based on proven Internet scale technology. These switches offer flexible 10GbE, 25GbE, 40GbE, 100GbE, 200GbE, and 400GbE interfaces for server and intrafabric connectivity. The QFX5220 line is an optimal choice for spine-and-leaf deployments in enterprise, service provider, and cloud provider data centers, as well as routing use cases in metro environments.
High Throughput
Up to 25.6 Tbps (bidirectional) of line-rate, low-latency switching to support data center fabrics built on proven, scalable technology standards.
Junos OS Capabilities
Enables support for advanced networking features such as BGP add-path, MPLS, Layer 3 VPN, RDMA over Converged Ethernet (RoCEv2), and multicast.
400G Ethernet
The QFX5220-32CD offers 32 x 400GbE ports with a wide range of QSFP56-DD transceivers.
Network Automation
Includes Zero Touch Provisioning (ZTP) and support for Python, Ansible, Chef, Puppet, and others.
QFX5220 Ethernet Switches

32 x 40/100/4000GbE QSFP56-DD
2 x 10GbE SFP+
Up to 25.6 Tbps (bidirectional) Throughput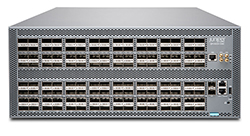 128 x 100GbE QSFP28
2 x 10GbE SFP+
Up to 25.6 Tbps (bidirectional) Throughput